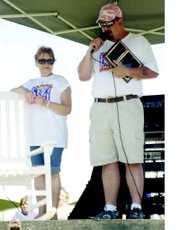 GRANDVIEW - This past weekend's Lower Valley Relay for Life raised $118,000 to help the fight against cancer.
Relay fundraising events have been ongoing since last May. Teams planning on participating in the event host bake sales, chili feeds and much more in anticipation of the annual event.
During the opening ceremony, Wal-Mart Distribution Center's Darin Truax had announced that more than $83,000 had been raised to help in the fight against cancer.
He said the relay was about providing hope for those affected by cancer.
The featured speaker during the relay's opening was Annabel Burch, a three-time cancer survivor.
She said that she lost her leg as a result of cancer, but she continued to fight the disease. Her last bout of cancer was 18 years ago.
Burch said she found out she had cancer when she was pregnant, but the research and advances in treating cancer helped her undergo chemotherapy during the pregnancy.
Wapato's Joanne Looney was awarded the Dee Parsons Award as a result of her dedication to the Relay for Life. Looney raised more than $10,000 for this year's event.
Those participating in the event took advantage of entertainment, shared stories and celebrated life.
Many had stories of people who are currently being treated for cancer in addition to the stories of loved ones lost. There were stories of survival and many said the event brings cancer to the forefront for them.