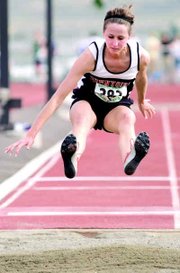 RICHLAND - A year after not qualifying anyone for the State 3A track and field meet, Sunnyside High School will this coming weekend send three athletes in five events to the State meet in Pasco.
That was the outcome of this past weekend's Regional meet held in Richland, which saw Jordyne Jaquish (long jump, high jump) and Claire Schilperoort (discus, javelin) each qualify for State in two events for Sunnyside and fellow Grizzly Brice Rinehold qualify in the discus.
"It's nice to see three athletes who have been with the program for four years be able to compete in the State meet," said Coach Robin Bryson. "For them to get these marks is really exciting."
Jaquish was second in the long jump with a leap of 16-11.5, topped only by the first-place mark of 17-7.5 set by Allyssa Thompson of Kamiakin. Though she didn't finish in the top three in the high jump, Jaquish still punched her ticket to State in that event with a State-qualifying mark of 5-2.5, good for fourth place honors.
Schilperoort found herself in a similar situation in the javelin, finishing out of the State-clinching top three positions, but still advancing to State with a fifth-place throw of 126-1 that topped the State qualifying mark. Schilperoort also advanced in the discus, earning second place honors with a mark of 108-2. She was bested only by Mount Spokane's Rachel Damiano's first-place throw of 119-5.
Rinehold punched his ticket to State with a personal best throw of 138-11 in the discus, good for second place just behind Mount Spokane's Ian Scheidmiller, who uncorked a throw of 153-6.
In other marks that earned points for the Sunnyside boys at Regionals, Rinehold was also eighth in the javelin with a throw of 155-3.
Sunnyside's Roy Haringa just missed out on a State invite with fourth-place finishes in the 110 and 300 hurdles, in respective times of 16.08 and 41.39. Haringa was nipped for the third and final spot in the 110 hurdles by Hanford's Joe Clements, who posted a time of 15.79. Claiming the third berth in the 300 hurdles was West Valley's Garrett Sears in 40.46.
Kennedy Sarmiento of Sunnyside was sixth in the 110 hurdles with a time of 16.24.
The Grizzly foursome of Victor Rios, Sarmiento, James Sanchez and Haringa was sixth in the 4x400 relay in 3:37.82.
Also earning points in the girls competition for Sunnyside were Kendra Meeker with an eighth-place mark in the discus of 89-11, Jaquish, eighth in the 100 hurdles in 16.86, and Sarah Kilian seventh in the shot with a mark of 31-9. Jocelyn Yanez was seventh for Sunnyside in the 1,600 with a clocking of 5:45.16.
"We had a very good meet across the board," said Bryson. Besides three State qualifiers, Bryson pointed to new faces who qualified for Regional finals, such as Meeker, Yanez and Sarmiento.
In Regional team scoring, Sunnyside's boys and girls squads both finished ninth out of 10 teams with 25 and 31 points, respectively. North Central was the top scoring boys team at Regionals with 143.5 points, while Mount Spokane topped the girls with 107 points.