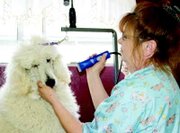 GRANDVIEW - Everybody needs a day at the spa every now and again, even Fido or Whiskers.
That's the concept behind Grandview's Biscuits & Bows Doggie Spa, which opened in Grandview earlier this month.
Biscuits & Bows goes above and beyond the average animal grooming experience.
"Instead of running them through as fast as we can, our goal is to spend time with them," said business operator and pet groomer Cindy Crawford. "We want it to be as relaxing for the (animals) as it can be."
There's a plethora of services available for animals that can't be found anywhere else, including nail caps.
Nail caps cover a cat or dog's nails and help prevent scratches. They come in a variety of different colors. For male animals, they come in black, too.
"Nail caps prevent scratching and they last up to three months," Crawford said. For those who pass on the caps, Biscuits & Bows also polishes animals' nails.
Another unique aspect of the spa is toothbrushing. Crawford said, "We brush everybody's teeth. A lot of (groomers) don't brush teeth."
Biscuit & Bows also carries a unique line of doggie jewelry, bedding and clothing under the label of Katie's. The items are handcrafted by Cathy Waters of Orting, Wa., formerly of Mabton.
If a pet owner is looking for a particular item not found at Biscuits & Bows, Crawford said, "If we can find it, we'll order it."
Crawford previously worked as a pet groomer in Prosser. "I'd been kicking (the idea of opening a spa) around for a while," she said. "My dad encouraged it and after he died, I decided to make some changes.
"I started looking for a building in January and here we are."
Crawford has a passion for animals and has a plethora of them at home. Currently, she's bottle feeding a week-old miniature Schnauzer.
"I like my dogs, that's why I'm here," she said.
Despite the fact that Biscuits & Bows just opened on May 6, word is spreading quickly about the new animal grooming business in Grandview. Sometimes, said Crawford, "We're almost too busy."
Crawford said one of her clients is a dog breeder. "She'll keep us busy all year."
Biscuits & Bows, which is open for business Tuesdays through Saturdays, is located at 308 Old Inland Empire Highway, just next to Security Mini-Storage in Grandview. The phone number to the business is 882-6DOG.
&nbsp