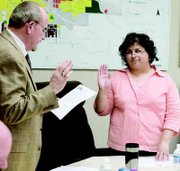 GRANDVIEW - After hearing from four applicants at last night's Grandview City Council meeting, the council picked Diana Jennings to fill the vacant council seat left by Robert Morales.
Jennings was picked over former Grandview City Council member Javier Rodriguez, and citizens Mary Barrett and Coralea Farris-Pickett.
Jennings currently works at the Yakima Valley Community College Grandview campus as a student services coordinator and has been a Grandview resident for the last 22 years.
Community activities she has participated in recently include the 2007 Grape to Glass Gala and she co-chaired the parent booster club for the class of 2003.
Jennings said she decided to apply for the vacant seat on council because of her recent involvement in Leadership Grandview.
"Even though I've lived here for a long time I didn't really know a lot about what goes on," she said. "This class really opened my eyes."
The passions and convictions of the people she met and heard during her time in the leadership class convinced her to get involved.
While she is on the council Jennings said she would like to make city government more transparent.
"I would like to make it more accessible to the people," she explained.
Besides working on making city government more open, Jennings said the budget is a major concern to her. The proposed tax increase to pay for city services for the next two years goes before the people today (Tuesday). If the tax increase passes, there will be a sunset date at the end of two years. Jennings said she is not in favor of this, noting things will only get more expensive and the city will need that money.
Another issue that concerns Jennings is misdirected youth and she said she would like to expand the hours of existing programs for Grandview's youth.
"We have to invest our time and money in our youth," she said. "If we don't do it now, we'll pay later."