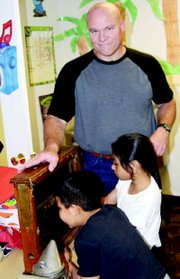 OUTLOOK - What began as a presentation for preschoolers has grown in popularity at Outlook Elementary School.
According to Elizabeth and Huston Osborn, the couple's presentations involving honeybees were started as a show-and-tell for their children a few years ago.
Elizabeth brought a jar of honeybees to the classroom and told the youngsters about the many attributes of honeybees.
Outlook Elementary School teachers learned of the presentation and began making requests.
Elizabeth said the couple first brought an observation hive to the school last year.
"The teachers were impressed and word spread. So when they learned we would be giving presentations this year, I began receiving even more requests," said Elizabeth.
She and her husband provided presentations for 14 Outlook Elementary School classes recently.
"Huston insists that I do all the talking because I am familiar with the kids," Elizabeth explained, stating that although her husband is the beekeeper, he plays the role of assistant during presentations.
She said some classes pre-scheduled the presentation and were provided with honey sticks for the students and a jar of honey for the teachers.
In addition, Elizabeth said she did a lot of research to devise worksheets for the students.
"We want the presentations to be educational," she explained.
Huston said he felt his wife did a good job asking students "fun facts" about bees and explaining information such as how many flowers are necessary to produce a pound of honey.
"The answer, by the way, is two million," Elizabeth noted.
She and Huston said the presentations provide a hands-on, visual and auditory learning experience.
"Some of the kids really get into it," said Elizabeth.
Huston added that there were a number of teachers who expressed that they had learned something from the presentation, also.
"Huston is now known as the 'Bee Man'," Elizabeth laughed, stating that the couple feels it is important for youngsters to learn the important role bees play in providing the foods we eat.
Huston has been a beekeeper for eight years and believes in educating children on the benefits of bees, the importance of not panicking when stung by a bee and how use of pesticides can adversely affect bee populations.
"We also explained that there is little known about colony collapse disorder and that being aware of the products used when gardening can help keep bee populations from diminishing," said Elizabeth.
photo courtesy of Elizabeth Osborn
Antonio Ciriano (forefront) and Kimberly Galvan look at honeybees in an observation hive at Outlook Elementary School. Providing the bees during a presentation is beekeeper Huston Osborn (standing).
photo courtesy of Elizabeth Osborn
Outlook Elementary School students were recently given presentations on the importance of honeybees. Beekeeper Huston Osborn (far left) and his wife, Elizabeth (back), provided the presentations. The couple brought with them several tools used in bee keeping and honeycombs for the students.
&nbsp