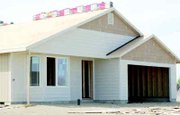 Of the 33 building projects permitted by Sunnyside city officials during the month of April, more than half-17-were for re-roofing homes and buildings in the city. The 17 re-roofs accounted for nearly $80,000 in valuation and generated more than $21,000 in permit fees for the city of Sunnyside.
Altogether, the city of Sunnyside saw new building starts total $360,812 in April, resulting in just over $7,600 in fees to the city.
There was one new housing start permitted during the month, a three-bedroom home at 1625 S. 13th St. by contractor Aho Construction. The home has a valuation of just over $148,000 and generated just over $2,000 in fees for the city's coffers.
Another home at 1214 Carnation Drive received permits for an 800-foot expansion to the existing house. That project is valued at $54,850 and netted $1,124 in permit fees.
City officials also issued three sign permits and five window permits during the month of April.