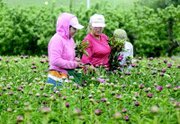 Nick Friend immigrated to the United States from Holland in the 1940's. It only made sense that he continue in the family business while living in America--that of raising flowers.
Today, a drive down Sunnyside's winding Emerald Road reveals row after row after row of fragrant, beautiful peonies just ready for harvest at Friend's farm.
According to Nick's daughter, Nancy Campbell, the recent heat spell opened up many peony blooms. "They opened really quickly," she said.
Despite the early arrival of blooms, this year's peony harvest is still expected to be a good one.
The flowers that have bloomed out must be cut off, despite their beautiful glory.
The workers, Campbell said, "Can hardly bare to do it. They just think it's horrible.
"And it is kind of sad. But they have to get those out of the way so they can see the other ones coming that are ready to harvest."
Campbell said the peonies are best picked before they bloom, when they're starting to brighten with color, become larger in their ball-shape and softening up.
Once they're picked, they're hauled to a tractor, boxed and put in cold storage while a broker works on selling them.
Friend's Flowers has been in business for years. In fact, said Campbell, when her parents first started out, they sold the peonies themselves wherever they could. Today, they still have devoted, longtime customers that rely on them for their Memorial Day bouquets.
This is the first year that Nick Sr., nearing 80-years-old, is retired. Health challenges have kept him from the fields during harvest, but he was frequently seen working the fields leading up to harvest.
Harvest is a time that brings the Friend family together.
Nick Jr. runs the business today with Campbell's help throughout the year. Their siblings, Judy Boersma of Portland and Jim Friend of Seattle, converge in Sunnyside during the two-week harvest. Mom Norma is the cook while her family tends to the fields.
"She's head cook during harvest," Nancy said. "She spends all day in the kitchen, feeding the crew."
It's somewhat of a family reunion during harvest time. "Although," said Campbell, "There's not a whole lot of time to visit."
She and her siblings work during harvest from the time they wake up until the time they go to bed.
"It's a race against the clock. We have to get off as many flowers as we can before they bloom-out," she said.
This is the life the Friend children grew up with. Campbell recalls being a child and grumbling about the work.
She recalls the side-budding, the process of removing smaller side buds so the larger blooms would be even fuller. And the seemingly endless hauling of the cut flowers to the tractor.
"Now we know how blessed we are to be a part of this beautiful crop and it's the next generation grumbling," she said.
Nick and Norma Friend have six grandchildren who are being raised in the family business.
And, in Holland, Friend's family continues to this day to sell flower bulbs and seeds.