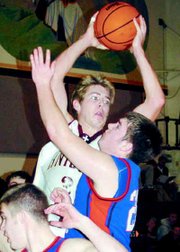 An all-everything player for Sunnyside Christian's second consecutive State champion boys basketball team, Joel Koopmans has received a scholarship to play basketball at Dordt College in Sioux Center, Iowa.
The senior averaged 17.6 points, 6.9 rebounds, 2.6 steals and 3.7 assists per game in leading Sunnyside Christian to the 2008 1B State title.
Koopmans earned several post-season honors, including being named the Class 1B player of the year in Washington, along with taking first team all-state honors. He was also named the most valuable player of the 1B State tournament in March. The 6-2 guard was nominated for the winter athlete of the year award for the Yakima Valley.
The son of John and Beverly Koopmans of Zillah, Koopmans said he was drawn to Dordt, which has an enrollment of about 1,300 students, because it is affiliated with Christian Reformed churches, which is his church membership. Koopmans also had a basketball offer from Wenatchee Valley Community College.
The Dordt College men's basketball team was 19-10 this past season and spent most of the season ranked in the top-25 in NAIA Division II basketball. The Defenders finished the season 13-5 in the Great Plains Athletic Conference-tied for third. Dordt College has averaged 20 wins per season the last three years.
"The goal is to win," said Koopmans, a son of dairy farmers who plans to major in business agriculture or finance. He indicated the scholarship provides $3,000 for his studies at Dordt College.
Koopmans' high school coach, Dean Wagenaar, is a 1989 alum of Dordt College. He praised not only the winning tradition at Dordt, but the loyal, spirited fan base that follows the hoop teams.
Wagenaar said the step up to college ball will be a good challenge for Koopmans.
"He's got a great opportunity to take it to the next level," Wagenaar said. "God bless him."