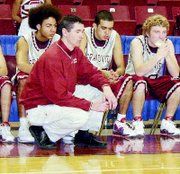 GRANDVIEW - It's the end of an era for Grandview High School hoops, as boys basketball coach Scott Parrish has stepped down after 10 years at the helm and seven years before that as an assistant.
Parrish built a 2A boys basketball dynasty at Grandview, earning seven State 2A tourney trophies in seven trips to the big dance.
Parrish, who will continue as a teacher at the high school, was succinct in the reasoning for his decision.
"I just felt it was best for my family," he said. "Coaching takes a lot of time and I don't want to miss out on my kids growing up."
Parrish and wife Tammy have three children, a son Treyton (7), and two daughters, Teagan (11) and Payton (14).
Though his resignation takes effect immediately, Parrish is helping out with preliminary arrangements for Grandview's summer basketball camp.
Parrish said he will miss his players and his coaches. "I had a great relationship with my staff," he said.
Grandview High School Athletic Director Ken Murray confirmed Parrish tendered his resignation this past Thursday.
"He's been very successful and we wish him the best of luck," Murray said.