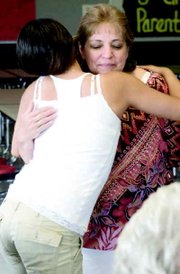 Ramona Arriaga remembers the day she went to work for the Sunnyside School District Food Service Department.
"I started baking bread at 4 a.m. 28 years ago," she recalled. "We did it all back then. We'd make 75 loaves of bread a day. We baked it, buttered it and sliced it."
Arriaga, who will retire at the end of this school year, was honored this past Tuesday by her peers and school district administrators for her dedication and many years of service as a cook.
Arriaga said she was encouraged to get out of field work by her husband many years ago and after a brief stint at a nursing home, she found her true calling with the school district.
"Back then everything we made was homemade," she said. "The only thing we could never get right was the hotdog buns. Things sure have changed."
A larger number of students forced the cooking staff to adapt to quicker ways.
"For instance," she said, "bread took a long time to make. You had to mix it and then knead it. Let it rise and then bake it."
Time consuming as it was, Arriaga said the smell was like heaven.
She's enjoyed her job over the years, especially the hours. When she started she didn't think she'd be here for 28 years and credits her desire to cook that did it.
"I love to cook" Arriaga said. "That helps when you love what you're doing."
Arriaga probably would have worked longer but she's retiring now so she can babysit her grand-daughter and be a grandma.
Still, she will miss everyone she works with. In Arriaga's 28 years she has worked in every school except Sierra Vista Middle School. For the last four years she's been at Outlook Elementary School.
"I live in Outlook and I'm close to the school," she said. "It's been nice."
June 4 will be her last day.
Arriaga said it made her feel great that her co-workers honored her on Tuesday.
Public School Employees Food Service President for the Sunnyside School District, Paula Wyatt, recalled when she first went to work for the school district Arriaga was so polite and nice to her. She made her feel welcomed.
"Ramona, I wish I could talk you out of retiring, but I understand your reason," Wyatt said at the ceremony honoring Arriaga. "I wish you well and I hope you will come back and have lunch with us sometime."