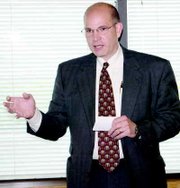 Both, District No. 2 Yakima County Commissioner Ron Gamache and Yakima County Prosecutor hopeful Ken Ramm were the featured guest speakers at the Sunnyside Republican Club meeting in Sunnyside this morning (Friday).
Gamache, who faces re-election this year, told the Sunnyside club he enjoys being a county commissioner. He says he deals with issues such as building roads, treating mental health and beefing up the judicial side of things.
He said one of the many things the commissioners do is budget money, which Gamache said is a limited amount every year.
"One thing that's important because of the limited amount of money is to make sure our money goes as far as it can," he said. "We do this by going out into the community and finding out where the needs are."
He noted that taxes in Yakima County have not been raised in many years. He said they are able to keep taxes down by attracting people to come to the valley, which increases Yakima County's tax base.
Gamache said the three-tenths of 1 percent law and justice sales tax will be sunseted in 2010 and he said it will be important to renew that tax. Sixteen deputy sheriffs have been hired with that money, he said.
Gamache said his priorities for the 2009 budget will be law and justice, safety, administrative concerns and public services.
Ramm, a senior prosecutor for Yakima County, has been with the prosecutor's office in Yakima since 1988. Current Yakima County Prosecutor Ron Zirkle will step down this year and Ramm is hoping to take his position. He was at the Sunnyside Republican Club meeting to make his case to Sunnyside Republicans.
Ramm was raised in Othello, educated at Washington State University and Gonzaga Law School, and said he obtained a good work ethic at a young age.
"I was taught if you worked hard there would be some level of success," he said.
He said if he is appointed to the prosecutor's position and then later elected, he will look for people to fill his office who are from eastern Washington.
"We need that stability here because turnover can be very damaging," he added.
Ramm told the Republicans it is important to put judges on the supreme court who believe they way they do. He added it is important to elect Republican governors and presidents, as well.
He said he has been assigned important cases throughout his career and has recently gained experience in capital litigation, or death penalty cases.
Ramm said he would like to put more emphasis on crimes that affect every day families like burglary, theft and robbery. He also said he thinks homeowners who kill an intruder should be given the benefit of the doubt and not charged if the killing was justified.
He encouraged the Sunnyside Republicans to vote for him because he shares their values, he is from eastern Washington and he is a Republican.
Ramm noted the differences between him and other candidates for the position are that he has trial experience in Yakima County.
"I've been there, I've done it," he said. "I have the background and experience the other people don't."