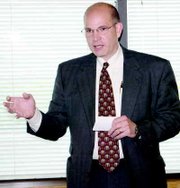 James William Schut, 79, of Kennewick and former longtime Sunnyside resident passed away on Wednesday, May 14, 2008, in Kennewick.
He was born May 18, 1928 in Naches to James Wilbur and Maria (Gilde) Schut.
He received his education in Yakima, Moxee and later graduated from Sunnyside High School with the class of 1946. He worked at H and H Lumber Yard in Grandview and various farm-related jobs in his youth.
During WWII Jim drove truck for Bickleton wheat farmers, getting his driver's permit at age 15 because of a shortage of working men who were in WWII. While in his junior year of high school, Jim and a friend tried to enlist in the Navy, the recruiter sent him back home and told him to finish school.
He was a self-employed excavator. He worked as a contractor for Cascade Natural Gas for 36 years. He dug gas line from Yakima to Prosser. While working as an excavator, he worked 36 years, accident free, and won many awards for this accomplishment.
He was noted for his "Dutch" work ethics, an "honest" man, and his word being his signature.
He had a mathematical mind and when calculators first were invented, he would take pencil and paper to recheck the calculator! In 1950, he used these talents to build his first home. He designed and built metal walkers and wooden therapy bars for his daughter Sandy, who has Cerebral Palsy, to practice helping her walk.
He enjoyed animals, having horses, cattle and dogs. He loved riding horses around his farm and in the mountains with family and friends. Later on, he traded the horses for motorcycles. He and Phyllis took many rides to the mountains and around the valley. They enjoyed square dancing and round dancing. What a smooth dancer!
Jim, as a young man, attended the Moxee Christian Reform Church, Sunnyside Presbyterian Church and later the Nile Valley Community Church on Chinook Pass.
For 48 years he was faced with many challenges, one being diabetes, and other health issues.
Jim and Phyllis had been married 58 years and celebrated their 50th anniversary at their mountain home in 2000.
He is survived by his wife, Phyllis Catherine (Ritchie) Schut of Kennewick; children, Sandra Maria Schut of Richland, Steven James Schut (Pauline) of Sunnyside and Sheryl Ann Gonzalez (Joe) of Pasco; five grandchildren, Dan and Marisa Parr, Christian (Gladis) Schut, Matthew Schut, Michael Gonzalez and Lauren Gonzalez; three great-grandchildren, Elsa and Machela Young and Trysten Parr; siblings, Mickey Murphy of Prosser and Elsie Bell of Sunnyside; sister-in-law, Mary Lou Ribail; stepmother, Marge Schut of Richland; and many nieces and nephews.
He was preceded in death by his parents; two brothers, Edward and Jerry; and sister, Beverly Buhrman.
Jimus, Dad, Papa Schut, Grandpa Schut know you did well in your life and your family thanks you for all you did. We love you much and will miss you terribly. Gone but never forgotten.
Those wishing to honor Jim's memory may contribute to the Diabetic Foundation.
A celebration of life service will be held at a later date.
Those wishing to share their memories or sign Jim's on-line memory book may do so at www.funeralhomesmith.com.
Smith Funeral Home is in charge of arrangements.
More like this story