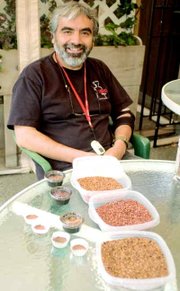 PROSSER - It's no small wonder that when retired nuclear scientist and current Blue Goose Restaurant owner Carlos Leon got his hands on wine grape seeds shortly after reading an article urging innovate use of grape waste that he'd take to the drawing board.
Leon loves to roast his own coffee beans. When he got his hands on the wine grape seeds, he went ahead and gave it a shot.
When Leon is asked how it all started, he jokes, "It was a dark and stormy night...". Then, more seriously, he tells of a visit at the restaurant one night by ApresVin owners.
ApresVin is a company that makes grape seed oil and flour from grape waste collected from various wineries.
"They were here having dinner one night and one thing led to another," recalled Leon. After giving Leon information about ApresVin products, they then brought him Merlot and Chardonnay grape seeds.
"I wondered if I could roast them," he said. "I popped some in my mouth and I tasted promise."
He promptly took the seeds home and popped them in his roaster. Then, he says, "I burnt them. Really, really burnt them."
It took Leon several batches of roasting seeds to find the right air flow and temperatures.
Now, he said, "I think I've got it. After about six weeks (of trying), I think I nailed it."
Each seed from the different varietals has its own unique flavor, he said.
Convinced that he found a good use for the Chardonnay seeds, he approached diners at the Blue Goose and asked, "Would you like to try something not being done anywhere else in the world?" Leon used a pepper grinder filled with Chardonnay seeds to sprinkle the diners' salads.
The response has been overwhelmingly positive. "About 95 percent of the customers like it," he said, adding only a few have said they didn't and only one or two didn't want to bother to give it a try.
Next, he decided to make a steak rub out of the Merlot seeds. Once again, he found success. He rubs steak with the ground seeds, cooks it, slices it and serves it on a salad in a dish called "Merlot & Crusted Steak Salad."
When he moved on to chocolates, he combined chocolate, ApresVin wine-flours and toasted seeds for a crunchy little confection that can best be described as heaven.
What's been interesting for Leon is that grinding the seeds to different levels of coarseness has changed the flavors each time.
And, he said, each varietal of seed requires different roasting temperatures.
He has relied largely on his nose as to when he reaches the right consistency. He likens it to lessons he learned from his mother when it comes to making fresh tortillas.
"When you're kneading the dough, it reaches a certain point and gives off a certain aroma. That's when I know it's finished," he said.
He's also relied on input from his family. His 16-year-old daughter is a big fan of gouda cheese and ground Riesling seeds.
"There are two or three cheeses that it (goes great with) and is, how do you say it...'the bomb'."
Of the seeds, he says, "For centuries, we've been throwing it away, using it as fertilizer or keeping dust down on roads."
He adds, "My whole goal is to use them in food."
Eventually, he'd like to find some financial backers for his venture. "Right now, I'm solo."
Leon said of all the different things he's tried or is dreaming of trying with the seeds, "The technical side gets me excited, then my mind just goes boom, boom, boom!"
He's still trying to figure out the shelf life for the seeds, which he said can be enjoyed much like popcorn.
Where will the future take him? He pops a handful of roasted grape seeds in his mouth and says, "We'll see, we'll see."