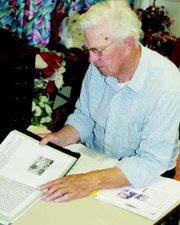 Most know him as Sunnyside's last milkman, but George Johnson has a few other monikers from his past...like corporal.
Johnson, born Jan. 30, 1930, was too young during the WWII fighting effort to enlist on his own, and his parents would not agree to allow him to sign.
In turn, Johnson pursued a plan B, signing up with a state guard or militia that was formed out of concern that a presence was needed on the home front during a time of war.
Johnson was 15 when he signed up for the state guard and trained right here in Sunnyside at a former roller skating rink at the end of Decatur Avenue. "We'd build a little fire and camp out military style," he chuckled.
Johnson recalled it as a time of drill, drill and more drill. "There was such a shortage of metal (for the war effort) that we only practiced with bullets about once a month," he smiled.
Just weeks before his 17th birthday Johnson was promoted to the rank of corporal in the state guard. Later the state guard was folded into what we know today as the National Guard.
During his National Guard service, Johnson trained with other Lower Valley residents such as Ed Homer, Herman Kilian and Dalton Taylor. Among his responsibilities was trucking in shells for heavy artillery practice.
He was 18 when his guard service ended, and when the Korean War broke out a few years later Johnson was again ready to do his part. Only problem was, the military turned him away, despite the fact he had served three years of guard duty. "They never did tell me why," he said.
Johnson wasn't the first in his family to have a brush with military service. His father Austin served with a balloon company during World War I that helped the allies track enemy forces.
This was in the infancy of U.S. air strategy, when balloons soared above with a view of up to five miles, while below a group of soldiers held the tethered lines in place.
The balloons were virtually defenseless against the German bi-planes, though soldiers below were armed with machine guns to help ward off enemy aircraft.
Johnson's father was among balloonists recognized for their heroism in helping the allies turn the tide in the battle of St. Mihel. Less than a month later, the armistice was signed on Nov. 11, 1918.
"Despite the fact that shells were falling on all sides of the balloon, two so close as to tear holes in the fabric, no man left the ropes nor faltered, well knowing that death was liable to come to them any moment," reads the Oct. 19, 1918 commendation. "The safety of the balloon was their first thought, their personal safety, second. They have shown the spirit and loyalty which is expected of true soldiers."
With his father having passed on long ago several years after bringing the Johnson family to Sunnyside, the balloon commendation is a memory befitting of Memorial Day.
Though the incident was well before his time, Johnson has it documented for future generations in his family. Johnson is 78 years old and is now recording his own memories of being able to serve "over here," even if he couldn't serve "over there."