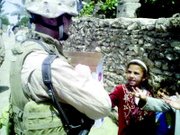 After two tours of duty in Iraq and recently completing drill instructor training, 2001 Sunnyside High School graduate Scott Grimmer has signed on for another four years of service with the United States Marine Corps.
Grimmer, the son of Mabton Postmaster Dwight Grimmer and Dana Grimmer of Outlook, is currently serving as a boot camp drill instructor at the Marine Corps Recruit Depot in San Diego on a three-year assignment.
According to Dana Grimmer, his last tour of duty in Iraq was a special assignment, training Iraqi police and military how to man their own borders.
"He was on a 10-man team...each team member had one or more specialties that qualified them," she recalls. "He said he was the lowest man on the totem pole, all the others were generals, colonels, etc..."
Grimmer told his mother it was an honor to be included on the assignment, albeit a little scary for his folks.
"We never knew where he was, it was classified," she said.
"One evening, very late, he called to chat on the mobile phone. He was in a sand storm and they couldn't go anywhere." He and his team members had been sidelined because of the sand storm for three days.
"All we knew is the people in the area (he was at) were Kurds," she said.
Grimmer eventually learned conversational Arabic during his travels, making him a favorite in the homes of locals. Grimmer, said his mother, was the only person on the team that could converse with the natives.
Grimmer, a Christian, told his mother that being welcomed into the homes of the locals for meals and conversation made him feel like he had "walked into Abraham's tent to visit and dine with him."
At one point, Grimmer and his fellow servicemen held a church service on the banks of the Euphrates.
Said his mother, "He felt a special feeling, knowing that some of the ancient prophets had likely been there."
Grimmer's popularity with the locals made him the recipient of many gifts. One man gave him a gift of sheep. Another, a ride on a camel.
During his first tour in Iraq, Grimmer was a mechanic.
"He went on all of the convoys," recalled Mrs. Grimmer. "It was really dangerous. He wouldn't talk about it."
To this day, she says, he won't talk about the perilous situations in Iraq.
"He's very closed mouth about (bad) stuff that happened. He just doesn't talk about it. I think it's because he doesn't want to upset his family or make his wife worry," she said.
On his first tour of duty, he was saddened when a little girl asked him for a pair of shoes. She was barefoot in 115 degree heat.
"It broke his heart. He asked us to send shoes, balls and especially dolls for the girls," said Mrs. Grimmer. This, she said, was in addition to the necessities Grimmer was already passing out to the Iraqi people.
Before he knew it, Grimmer was receiving care packages from Sunnyside, Yakima and elsewhere to distribute to the children.
Needlessly said, Grimmer's family was sure to send sandals.
Grimmer told his mother the boys would get all the gifts, so his request for dolls was because Grimmer was certain the boys would shun the feminine toys.
"It was a terrific feeling for him to watch as he threw out a soccer ball to a group of kids and the whole group ran off to play soccer," she said.
Mrs. Grimmer found a treasure trove of Disney dolls at the Dollar Store and bought the lot of the them for her son to give to Iraqi children.
"He said they would be mobbed when the convoys would come through...these people have nothing."
Grimmer just graduated from drill instructor training in March, no easy feat according to his mother.
"You can't just say, 'I'm going to be a drill instructor' and do it," she said. "You have to be in the top 5 percent of your class, pass physical and mental (evaluations), you can't get sick or injured," she said.
"They push you beyond your endurance. He said it's the hardest thing he's ever done and probably the hardest thing he ever will do in his life."
Some nights, he gets a half-hour of sleep, she added.
Grimmer initially wanted to train for Special Forces. His mother said they turned him down because he's married. After several years of trying, Grimmer and his wife, Diana, are currently expecting their first child.