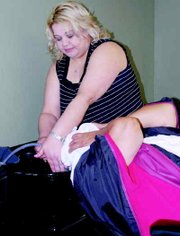 After owning Sunnyside's Shear Designs for nearly 12 years, Julie and Javier Ruiz decided to open an additional salon in Sunnyside.
"It was really Javier's idea," said Julie, stating the couple felt the stylists within the Mid Valley Mall location could handle business there.
As a result, the couple opened J&J Hair Addictions next to the former K-Mart building on Yakima Valley Highway.
Growing the business also means services in the location are expanded, according to Julie. She said she and Javier added permanent make-up services and waxing to the services provided at J&J Hair Addictions.
In addition, the new location has enough room for nine stylists and a nail technician. Julie said the business currently holds herself, Javier and Ilda Medelez, who handles walk-in customers.
"We really felt the addition would give us an opportunity to serve more people in the community," said Julie, stating the new salon has had several new clients already.
"Not everyone goes to the mall...maybe because they prefer a more private, closed-off location," she stated.
Javier began his career in cosmetology after suffering an injury while working at a local dairy. Julie said he specializes in barber services and has grown to love his new career.
"I have learned to trust people...they are all nice," said Javier, stating he would not have sought the career without the support of others.
"Someone helped me pay for school," he said, stating the career suits him better than working in the dairy industry.
Julie said she was an aspiring dental technician when she discovered the need to start her career sooner, rather than later.
"I didn't know anything about hair," she laughed, stating school would have taken her two years to complete to become a dental technician and cosmetology school only required a year.
Julie said she and Javier have both found owning their own business is rewarding and their wish is to help others feel good about themselves.
"The new business provides customers with options and convenience in addition to quality services," Julie stated.