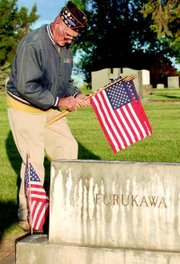 Noting it is "not about division but recognition," Sunnyside Fire Chief Aaron Markham capped off a day of solemn ceremonies with brief remarks honoring local veterans during a service at Lower Valley Memorial Gardens in Sunnyside on Memorial Day yesterday, Monday.
The service was preceded earlier that same day by one at the Outlook Cemetery. During both services the names of all veterans who perished in action were recited, including Matthew Emerson of Grandview, who was killed while serving in the current Iraq War. Both services also listed the names of all 58 Sunnyside area veterans who died during the past year.
Ceremonies here also included the playing of Taps, a 21-gun salute, placing ceremonial wreaths to honor the fallen and the release of white doves into blue skies and sunshine that broke through just in time for a day of remembering.
The remembering actually began early Saturday morning, when at 6 a.m. flags were placed at the grave markers of local veterans.