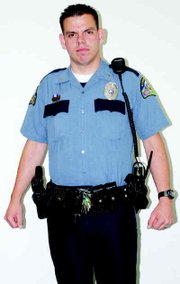 MABTON - When asked why he chose a career in law enforcement, Mabton's newest commissioned police officer, T.J. Orth, says, "It's been a lifelong dream of mine to follow in my father's footsteps."
Orth grew up in Sunnyside, watching his father help other community members as a Sunnyside police officer.
He said he became a reserve officer for the Sunnyside Police Department in 2005 as a result of pursuing his dreams.
While serving the community of Sunnyside, Orth said he obtained many of the skills he needed, enabling him to become a quality officer.
Mabton hired him as a provisional officer more than a year ago and Orth said he decided it was time to attend the police academy.
He entered the academy this past January and graduated earlier this month, which allowed him to become a fully commissioned police officer for the city of Mabton.
"I enjoy serving the community and the people within the community," said Orth.
He said 720 hours of instruction had to be obtained while he was at the academy, which is located in Burien. Included in the instruction were criminal law, procedures and patrol. "There was much more involved than that, though," Orth said.
He is most pleased to be back in the community, serving Mabton in the evening and continuing to serve as a reserve officer in Sunnyside during his days off.
"I work with many committed and dedicated law enforcement officers...they are a great bunch of people," he said, stating he hasn't really taken a day off since returning from the academy.
Orth added, "I feel it is a great pleasure to work under Chief Robert Perales."