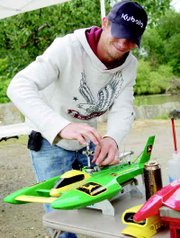 GRANGER - It may not have been the brickyard oval at the Indianopolis Speedway, but this past Sunday engines were revved up to race around another oval of sorts in the pond at Hisey Park in Granger.
About 10 members of the Central Washington Radio Control Boats raced what they call RC hydros around the lake. Pat Barr of Prosser is a member of the club and helped organize this past Sunday's competition, which takes place the second and fourth Sunday of the month throughout the summer.
"We started the club seven years ago," Barr said of the hydro club, which runs two-foot long replicas of the full-sized hydros that tear up waterways around the country. One of the replicas on hand was that of the famous Miss Budweiser. Barr said there are other clubs that run larger remote controlled boats, but he said the smaller ones employed by his club cost in the range of $350. "That way it's affordable for people to race," he says, noting larger four-foot long boats can run up to $2,500.
There wasn't much time to talk though, because the speaker system crackled with news of the race line-up. Meanwhile, over in pit row, mini hydro enthusiasts feverishly worked over their boats, fine tuning them for the run around waters high and choppy from recent rain storms in the Lower Valley.
With that it was time for these gentlemen to start their engines and get the boats running around the course.
Just like at Indy, though, there are some entries that don't quite make it and need help to limp off the course. At the ready was the club's version of a pit crew, John Warrior of Yakima, who manned a row boat to fish out a hydro that didn't finish out the circuit.
Winners this past Sunday were Ed Moore in the small block stock hydroplane category, Kyle Hirano in the small block mod hydroplane, Tom Maggard in the 3.5 Tunnel and Brad White in the 3.5 hydroplane.
Winning or losing isn't the ultimate goal, though. It's about friendship and getting together with folks from all over eastern Washington here in Granger every fortnight.
"It's fun to race against other people," Barr smiled. "It's a good hobby."