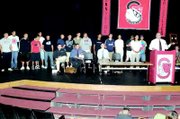 Parents, athletes and coaches gathered at Sunnyside High School's auditorium last night (Tuesday) to honor the school's spring athletes.
Athletes were honored for both their academic performance this spring and their efforts on the field.
Ninety-six out of the 261 students who participated in spring athletics earned a fourth quarter GPA of between 3.0 and 3.69. These athletes received a certificate for their accomplishments.
Twenty-eight students earned a fourth quarter GPA of a 3.7 or better. These students were given a patch to signify their first time reaching this goal. They included Zachary Brandvold, Efrain Silva, Roy Haringa, Susana Carrasco, Tanya Lugo, Marlene Manzo, Brittany Messmore, Jordan Jaquish, Mario Sanchez, Joy Bardell, Emily Hutchins, Ryan Rice, Arthur Lavieville, Miguel Barrios, Edgar Hernandez, Guillermo Correa, Fermin Fernandez and Uriel Osuna.
Another 10 student/athletes were awarded a pin for having repeated their success of maintaining at least a 3.7 GPA. They include Kyle Scott, Jacob Rogers, Ayla Schmick, Katie Herndon, Megan Tyler, Christine Kim, Rebekah Paulakis, Emily Meyer, Kaden Johnson and Alfredo Gomez.
Individual sports awards were also handed out at last night's sports awards ceremony.
The most successful spring sports team this year was the Sunnyside boys soccer team. The Grizzlies went 9-3 in league play and won the Columbia Basin League title for the first time. The Grizzlies also added District and Regional titles to their trophy case and advanced to the State quarterfinals, matching their deepest penetration in the State tournament.
Coach Juan Pineda named Danny Alvarez most improved soccer player. He gave Brian Galvan the most inspirational award. Jesus Solis received the coaches award and Luis Perez was named captain. His brother, Joaquin Perez, was named MVP.
In tennis, coach Troy Whittle gave Jay Kim the most inspirational award and the MVP on the boys side. On the girls side, Jamie Zijlstra was named most inspirational and Regina Mendez earned MVP honors.
Baseball Coach Terry Shines named Nathan Cornelius as captain. Gibby Briones was named MVP and Brenen Swofford earned the most improved award. Buddha Palomarez was named most inspirational and Jasper Rubalcava earned the coaches award.
In fastpitch softball, Coach Ralph Mendoza named Victoria Ramos as most inspirational and team captain. He named Shana Zamarron as most improved. Kassie Luther earned the best bat award and Melissa Amaro was recognized for her fielding skills and given the golden glove award.
In golf, Coach Ryan Wattenbarger named Nathan Espinoza as most improved and Justin Bos was named MVP on the boys side.
On the girls side, Marissa Martin was named most improved and Sarasa Partida earned MVP honors.
Track Coach Robin Bryson named Amber Rodriguez as most inspirational in girls track. Kendra Meeker was named most improved and both Claire Schilperoort and Jordyne Jaquish were named outstanding performer.
On the boys track and field side, James Sanchez was named most inspirational. Efrain Silva was given the most improved award. Brice Rinehold earned the coaches award and Roy Haringa was given the outstanding performer award.