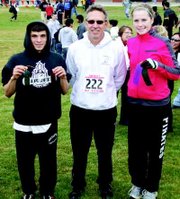 SPOKANE - Bickleton's Junior Hernandez and Danielle Raschko have qualified for State competition following Regional competition on a 5K course at Spokane's Plantes Ferry Park this past Saturday.
Raschko, a senior, finished seventh, clocking in at 21:50, while Glenwood's Neola Putnam finished first in 19:21.
"Danielle's experience and determination really came through on Saturday as it has been a slow developing season for her," said Bickleton Coach Darrell Lang. "She was slowed in the middle of her season due to an arch strain, but overcame it to regain her form that she first displayed her freshman year."
Lang said Raschko has always ran at Districts and missed the class A berth to State by one place her freshman year. She placed at State competition in her sophomore year, but fell short last year.
"She was not to be denied this year as she went out with the lead pack early, running in fifth place for the first half of the race.
"We knew she had to go out and run with the top 10 to stay in contention as this has always been her style," Lang said.
"She lost a few paces in the last half of the race, but ran with a very determined and gutsy effort."
Lang said he was concerned going into the race about how well Raschko would do, considering how she's done this past season.
"...I was really hoping that she could just crack the top 15, (so) we're all really happy with the results."
Lang felt certain Hernandez would earn a spot in the top 25, but got sick earlier this week.
"We really thought he had a chance for the top five, (but) considering his cold, he did great to place eighth," Lang said.
"He went out in 5:30 for the first mile, which I thought would be faster, but he moved up to sixth and seventh before being passed later in the race," Lang added.
Hernandez completed the course in 17:51. Valley Christian's Jeff Pope placed first in the boys race in 16:12.
State competition is this coming Saturday in Pasco. Raschko runs at 10 a.m. and Hernandez at 11:30 a.m.