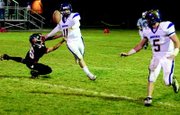 In a spooktacular performance on Halloween this past Friday night, the Hanford Falcons put a scare into the Sunnyside Grizzlies, beating them 49-7 to claim the Columbia Basin Big Nine 3A football championship.
The win advances Hanford to the 3A playoffs and Sunnyside will close out the season with a consolation game against 4A University High School of Spokane on Friday, Nov. 7, at 7 p.m.
"They're just good," Sunnyside Coach Mark Marro said of the Falcons. "They've been working on this class for the past two to three years."
The biggest scare tactic Hanford used was its quarterback, Travis Chalk.
"He's just phenomenal," Marro said. "He's real strong. Kids just bounce off of him."
Chalk ran for a game-high 164 yards and scored four times on the ground. He also completed four passes on four attempts for 76 yards and another touchdown.
Altogether the Falcons ran up 425 yards on the ground with six touchdowns.
"We didn't tackle very well at all," Marro said. "It was just a case of a playing a team that was stronger and older than us."
The Grizzlies were able to move the ball and Marro said the score should have been a lot closer than what it was. One big sticking point was the turnovers Sunnyside committed. The Grizzlies threw two interceptions and lost one fumble.
Sunnyside was also stopped three times inside the Hanford 10-yard-line.
Defensively, Marro said, his team struggled.
"It comes down to speed and size," he said. "In order for us to make the next step we have to dedicate ourselves to working out in the off-season. We have to sacrifice in July and August. Hanford didn't do anything unexpected, they just beat us head-to-head."
Sunnyside quarterbacks Andrew Daley and Michael Rodriguez combined to complete 11 passes for 116 yards and a touchdown.
That score came late in the fourth quarter when Israel Manzo hauled in a 12-yard pass from Daley, which allowed Sunnyside to avoid the shutout.
Manzo then kicked the extra point to account for all of the Grizzlies' scoring.
Hanford jumped to a 14-0 lead after one quarter and had all but put the game away by halftime, when the Falcons led 35-0.
Manzo led the Grizzlies on the ground, gaining 48 yards on nine carries. Teammate Mario Saldana added 39 yards on 12 carries.
Defensively, the Grizzlies were led by Leo Cuellar and Saldana. Victor Rios also seemed to find himself in most of the defensive plays, as well.
Sunnyside (2-6, 2-7) is finished with league play and will play its final game this season against University in Sunnyside this coming Friday.