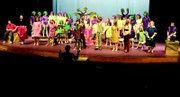 Letting one's imagination travel to the magical world of Willy Wonka provides one with a sense of joy and wonderment.
Sunnyside High School's production of "Willy Wonka Junior" takes the mind to that world and brings back that sense of being a kid again.
The Oompa Loompas kept one engrossed in the transition from scene to scene while in the chocolate factory. They were acrobatic and charming, as always. I can only describe them as cute and whimsical, keeping with the storyline.
Better projection of the voices is all that I would demand from them.
Adam Cleghorn was convincing as Grandpa Joe. He, along with Grandma Josephina, Grandma Georgina and Grandpa George, begin as four grandparents who truly believe in positive attitudes in spite of their bedridden state.
Grandpa Joe seems to "get his step back" as he joins Charlie, Giovanni Rodriguez, on the adventure into Willy Wonka's chocolate factory.
Mr. and Mrs. Bucket, Matthew Mendez and Hailey Moore, properly convince the audience of the poor state of the family's wealth. Once again, optimism is the message Charlie's parents instill despite dismal circumstances.
Their optimism embedded in Charlie leads him to cheering his father upon the discovery of Mr. Bucket having lost his job.
Mrs. Gloop's German accent is thick and Emily Slinker does well to entertain the audience. Her son, Augustus, is portrayed by Hank Tramel.
Glutony seems the family trait, but their humor throughout the scenes they are cast in had everyone laughing.
Ashleigh Emery plays Veruca Salt, the snooty young lady whose mother spoils her and meets her every demand.
Mrs. Salt, portrayed by Tassie Hammond, does well to keep up with Veruca's demands, shelling out money if necessary.
I never was very fond of either character, but the two actresses brought the Salts a little closer to endearment.
Violet and Mrs. Beauregarde, Lainey Rodriguez and Ruby Martinez, are a riot. Violet's incessant gum-chewing is taken to another level as she really works it, stretching and pulling, lacking any manners in regards to the smacking and flaunting of that chewy substance.
Mike TeaVee with today's technology is much more frightening for parents than the original character. He is glued to those video games and gadgets, making Rene Furan's portrayal all the more poignant in warning parents of the extreme fascination with technology.
Jennifer Crane plays Mrs. TeaVee. She is funny and refreshing.
Anique Fernandez convincingly plays Phineous Trout, television reporter. Again, laughter abounds as she attempts the interviews of each of the lucky golden ticket holders.
Giovanni Rodriguez shines on stage as Charlie. He seems a natural and is endearing as his smile lights up the stage. His expressions capture the attention and one wishes to follow him on the magical adventure. Rodriguez is convincing as the young boy who has little to hope for, but receives so much more than he ever dreamed.
Kurt Furan's performance as the candy man, Willy Wonka, however leaves me to wonder if he is trying to be scary. He has the Gene Wilder voice down pat, but his expression is spooky, and I am led to question if this is intentional.
My recollection of Willy Wonka is that of a loony, if not a bit eccentric character.
I was not mesmerized, but wanted to look away from Furan as he portrayed the character I was once very fond of as a child.
I believe this is a show everyone should see.
There are three more chances, Thursday, Friday and Saturday, Nov. 6-8. Each performance will be at 7 p.m. at the Sunnyside High School auditorium.
Tickets are available at the cost of $3 for students and seniors and $6 for adults.