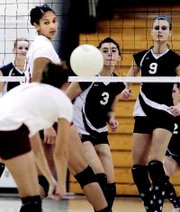 GRANDVIEW - The Grandview High School girls volleyball coach reached a milestone in the Lady Greyhounds' last match of the regular season last night, notching his 400th win.
When John LaFever was asked how he felt about reaching such an impressive mark on the volleyball court his answer was modest.
"It's okay," he said. "It was kind of fun."
That doesn't seem to be in question as his team beat the Othello Huskies 25-18, 25-12, 25-15 last night and will be the No. 1 seed from the CWAC South at the District Tournament in Ellensburg Saturday, Nov. 15.
LaFever said the first game in last night's match was close, with both teams tied at 18 apiece at one point.
It was then that Grandview changed the blocking assignment against Othello's Allison Walker, the Huskies' best player.
"She's a force to be reckoned with," LaFever said of Walker.
After the assignment change Sydney Mottice was able to serve out the win for the Greyhounds.
Walker would finish with 14 kills and 12 digs on the night. Most of her 14 kills came in the first two games.
In the second game the adjustments made in the first game started to work and Grandview slowly pulled ahead to close out the game. LaFever said his team was scoring two to three points for every one point the Huskies would score.
To start the third game Grandview's Vanessa Medina came up with a great service run to give the Greyhounds an early lead.
"She had three aces in that run," he said. "That gave us a pretty good margin."
Up 7-0, Grandview then cruised to the 25-15 win.
Kinzi Poteet led the Greyhounds with 13 kills, two service points and six digs. Meghan Smasne added seven kills, one dig, three blocks and three assists for the Greyhounds.
Her sister Haley added three kills and two blocks. Grandview's setter, Medina, finished with two kills, 13 service points, three aces, eight digs and 23 assists.
Othello's Justine Villareal finished with 15 assists and Kylee Mollotte had six kills and six digs.
The win gives Grandview 12 wins on the seasons to just one league loss and two losses overall.