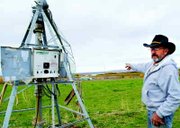 Already reeling from low cattle prices and the rise in expenses to operate his ranch, Gene Fernandez suffered another blow to his operations just more than a week ago thanks to vandals.
"I feel this is deliberate destruction, not just mischievous vandalism," said the local rancher, whose property is nearly nine miles outside Sunnyside.
Fernandez owns two pieces of land, nearly a mile apart, that were targeted by someone seemingly wishing to put him out of business.
He said his insurance has estimated the loss in the amount of $15,000 for his center pivot irrigation system alone. That doesn't take into account damage to his two tractors and bales of hay.
The center pivot's control panel was bashed, the sprinkler heads were knocked off, the tower controls were damaged beyond operation and pipes were busted.
"I felt sick when I saw the damage," commented Fernandez.
The hay was destroyed because the vandals opened the cattle gates and allowed it to be trampled. "They threw 50 bales of hay on the ground...it was made useless as feed and was nearly three feet deep when I entered the storage area," said Fernandez.
He said his wife had heard a noise in the middle of the night, but didn't investigate. The following morning, Fernandez discovered the couple's mailbox had been beaten with a pipe that lay nearby.
"The pipe had blue paint on it...we later discovered the paint was from one of the tractors," he recalled.
He discovered the damage because of the loose cattle. "I knew something wasn't right," said Fernandez.
Upon inspecting the property, he discovered the damaged hay and tractors. It was later that he discovered his new irrigation system was severely damaged.
The vandals also appear to have had a little four-wheel adventure in Fernandez's pasture because there were tracks indicating whoever caused the damage did a few "donuts" on the land.
"I believe I was targeted," he commented, stating he will be offering a $2,500 reward for information leading to the arrest and conviction of whoever damaged his property.
That reward will be in addition to a $1,000 Crime Stoppers reward. Anyone with information leading to the arrest can call Crime Stoppers at 509-248-9980.
Fernandez said he will not press charges against someone willing to act as an informant and Crime Stoppers is an anonymous tip line.
"I will do everything in my power to prevent the prosecution of a volunteer witness regardless of their involvement," he stated.