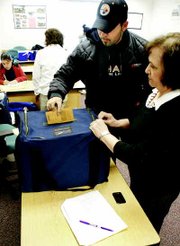 Yakima County bucked state and national trends in general election voting yesterday, giving Republican presidential nominee John McCain a double-digit advantage, while giving state GOP gubernatorial candidate Dino Rossi a nearly 2-to-1 edge.
Washington state and the nation, however, went with Democrat Barack Obama on Tuesday for president, as the President-Elect garnered 52 percent of the national popular vote on the way to 349 electoral votes to become the nation's first African-American President.
Rossi lost to Democratic incumbent Gov. Christine Gregoire, who statewide garnered more than 53 percent of the vote.
In local races, Republican incumbents held on to their offices by comfortable margins.
State Rep. Dan Newhouse of Sunnyside won re-election to his 15th District, Post. 2 seat with 64 percent of the vote.
"Looks like it was a good night for at least a few Republicans," Newhouse quipped. "Obviously, I'm happy in the results of our race. We do spend a lot of time during the whole term trying to stay in touch with constituents."
Looking ahead to the next legislative session, Newhouse said he's concerned the Democratic majority might seek passage of a state income tax.
"Probably the biggest issue as a state is our budget situation," Newhouse said. "I'm guessing there will probably be somebody that introduces an income tax bill." Newhouse says as the party in the majority Democrats will not want to make cuts to the programs they've instituted.
But there's not enough money for them, he adds.
"I know going into this session we've already spent everything we've got. At least at this point I don't see it as a revenue problem; we've just been spending too much. (An income tax) isn't the right approach. It takes discipline on both sides."
State Rep. Bruce Chandler of Granger also won re-election to his 15th District, Post. 1 seat with more than 60 percent of the vote.
Chandler also sees the economy as job one this coming legislative session.
"This is perhaps the most dramatic time in a long time in our state's history," he said. "The decisions we make in the next session will probably set our course for the next decade."
Like Newhouse, Chandler said Democrats will likely bring up a new source of revenue, a carbon tax.
"I believe there will be a lot of attention paid to creating a carbon tax, or a cap and trade," said Chandler. "The global warming political agenda could have huge consequences."
Chandler added, "My concern is that it will punish small businesses and working families, and we can't let that happen."
In another contest impacting the Lower Yakima Valley, U.S. Congressman Doc Hastings, a Republican, easily won re-election with more than 60 percent of the vote.
"I want to thank the voters for their support," Hastings said in a prepared statement. "It's an honor to represent Central Washington in Congress and I will keep working hard for local families and communities."
In other county-wide results, Kevin Bouchey of Toppenish defeated Jesse Farias of Wapato by a nearly 2-to-1 margin in the county commissioner, Dist. 2 race to replace Ron Gamache, who lost during the primary election.
Voters in Yakima County failed to provide enough support for a proposed EMS levy for the Lower Yakima Valley, giving it 53 percent of the vote but far short of the 60 percent supermajority needed for passage.
In statewide initiatives, voters turned down a measure related to transportation support, and approved proposals for allowing assisted suicide and supporting long-term care services for the elderly and disabled.
Though contests are basically decided, the counting will still go on at the county auditor's office as there are still about 20,000 ballots still to count. That's according to Elections Manager Kathy Fischer, who said the additional ballots will push Yakima County voter turnout to between 70 and 80 percent.
More like this story