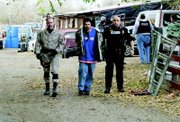 The Yakima County LEAD Task Force executed a warrant in the 1000 block of Midvale Road yesterday, Wednesday.
According to Yakima County Chief Detective Stew Graham, a warrant dealing with possible stolen vehicles was served at the residence around 9 a.m.
Task force personnel recovered two stolen vehicles and a stolen license plate from the scene.
Police took one man into custody in connection with the stolen vehicles and arrested another man on an unrelated warrant, according to Graham. The requested charge on the first individual is possession of stolen property.
The house, owned by Hermilo and Irma Mendoza, was found to have several problems, including electrical and water related. Sunnyside City Code Enforcement Officers deemed the house as not being able to be occupied.
The names of the two men arrested have not been released.