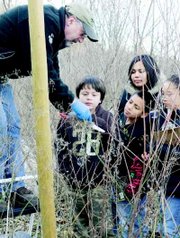 Slogging through the mud and grime at Giffen Lake just south of Sunnyside, Chief Kamiakin fourth grade students point out any wildlife they can see.
Yesterday, Wednesday, the students were collecting data on any evidence of wildlife they could find.
Known as nature mapping, CK's fourth grade students have been visiting the area for about five years.
"We go out and collect data about wildlife," Erika Barrom, a fourth grade teacher at CK, explained.
That data is then sent to the Department of Fish and Wildlife in Olympia. As part of a citizen's science program, the data then goes to the University of Washington to help track migratory patterns.
Students also learn about the different creatures that live in the water at Giffen Lake. They can actually watch them by using a device known as a creature peeper. This allows the fourth graders to see what dwells in the waters without having to actually go in the water.
Another part of the trip is to visit an area close to the Yakima River where former fourth grade students set up nesting boxes.
Barrom said the river overtime has destroyed the trees that usually house nests. By putting up nesting boxes the birds can continue to nest in the area.
Students studied the nests they found in the boxes to determine what types of birds reside there.
According to Barrom, if the nest is made up of grass it means swallows inhabit it. If the students find twigs, it usually indicates that wrens were in the area.
"We found quite a few with grass on the bottom and twigs on top," Barrom said.
She said this suggested that wrens had come in and built their nests on top of existing swallow nests.
Eggs and some dead chicks were also found, which challenged the students to come up with ideas on how that happened.
Next spring, Barrom said the students will return to see what kind of birds return.
"We're trying to teach about the impact that humans have on the environment," she added. "We also learn how humans can help. Our focus in on the habitat and what affects it."
The trips to Giffen Lake are possible due to a grant from the Washington State Department of Fish and Wildlife.