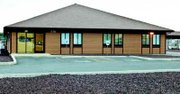 A budget crunch and declining revenues have hindered a proposed move of the post office in Sunnyside.
Postal officials were hoping to move the Sunnyside post office from its current location at 713 Edison Avenue to the post office annex, located at 770 Custer Avenue by the end of last month.
But, according to Sunnyside Post Master Lewis Gress, the last he's heard is the move won't begin until at least next spring.
"I'm not sure if it was due to declining revenues or because the current building housing the post office hasn't been sold," Gress said. "The move could possibly be contingent on the sale of the building."
The current building which houses Sunnyside's post office is up for sale, but Gress said he doesn't know if any offers have been fielded.
Gress said the annex building will be more customer friendly but there is still some work to be done, one of the reasons for the delay.
"The existing building will need to be modified inside and more parking will be added," he said. "We also need to add a drive thru for the drop-off boxes.
"What's going to happen at the annex building is going to be a good thing," he added. "The accessibility will be huge."