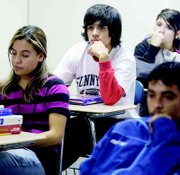 Some students find it hard to do well in athletics as well as succeed in the classroom. Being a three-sport athlete can make it even tougher.
For Sunnyside High School junior Jordan Esqueda, he's able to do it with the support of his family.
Esqueda plays three sports at Sunnyside High School and also maintains a 4.0 grade point average.
It's tough, he says, but the support from his mother and father helps. They play a large role in his life.
"My dad has always told me I could play any sport I wanted to as long as I did well in school," he said. "With my mom it was always school first. She won't hesitate to keep me out for a season if I slack off in school."
Esqueda said he's always done well in the classroom but with the threat of being kept out for a season, it helps motivate him to do even better.
How does he find time to maintain his grades?
"It gets hard sometime, but you just snap into it," he said. "You just focus and make sure you have everything planned out."
His family is rather sports-minded, he said.
"It came from my dad and my older brother," he claims. "I always had different sports balls in my crib when I was a baby. I've been involved with sports my whole life."
His first love in sports is basketball but he admits his body is more suited to soccer, probably his second love.
The junior has been a starter with the Sunnyside High School soccer team since he was a freshman, and things shouldn't be any different next season.
He's been on the freshman and junior varsity basketball squads his first two years but expects to be named to the varsity squad this year.
This year he tried out for the football team for the first time, spending the previous autumns running cross-country.
"I wanted to try something new, a new experience," he said. "A lot of my friends are on the team."
He's been very successful for his first attempt at high school level football, playing wide receiver and cornerback.
"Jordan is just a dedicated young man," Sunnyside High School football Coach Mark Marro said. "Whatever he's going to do he's going to do it at his best.
"He's the kind of kid you always want around you," Marro continued. "He's never going to complain and he's never going to quit on you.
"This is his first year on the football field," Marro added. "He was able to figure out our system in two to three weeks because he's so smart. We expect great things from him next year."
Marro is very impressed with Esqueda, adding the teen ministers on the side and wants to go into missionary aviation when he gets through with college.
"I don't know about you but when I was in high school I'm not sure I would have even known about something like that," Marro said.
Religion is something very special to Esqueda. He plans on attending a small, Christian based college when he graduates from high school in 2010.
Like most juniors at Sunnyside High School, Esqueda is working on his senior project, which is about missionary aviation.
"They are pilots that take missionaries around the world," he said.
He said these pilots are also known to fly medical missions into different countries as well.
He's been learning about planes and studying the pre-flight check lists but hasn't yet learned how to fly.
"That's on my to-do list," he said.
Although he hasn't yet picked a college, Esqueda is leaning towards either Northwest Nazarene in Napa, Idaho or Moody Bible Institute in Spokane.
He said there is a large missionary aviation program at Moody.