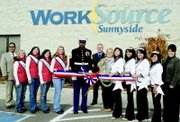 Carol Carrillo is bound to keep local feet nice and toasty throughout the winter. It's for that reason that the Vista Americorps Disability Navigator Specialist at the Sunnyside WorkSource office is conducting a "Warm Socks for Cold Soles" drive from now until right up to Christmas.
Carrillo was tasked with creating a project for Make a Difference Day, which was Oct. 25. It was then that she unveiled her plan for the sock drive.
"I was sitting here thinking, 'how can we make a difference'?"
She got to thinking about the amount of homeless people in Yakima County and the idea came to her to help keep them warm.
She's getting a boost from the Marines, too. She happened to attend a meeting that was also attended by a Marine who told the group that while his organization is out collecting Toys for Tots, they are more than willing to help with other service projects as well.
Carillo told the Marine, "Great. I just came up with an idea. Let's talk." Now, Carrillo says, "The Marines are backing me and wholeheartedly supporting the sock drive."
She said that as Marines place their Toys for Tots collection containers at various outlets, they'll also set up a container for socks. They'll also help gather them.
Collection containers for socks will also be found at every WorkSource location, she said. They'll be distributed in local communities through the Salvation Army and Union Gospel Mission.
Carrillo's dreaming big and looking forward to the end result.
"I wanna collect as many socks as we can. I'm just hoping we have more socks than people need."