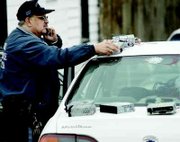 On Thursday Sunnyside police detectives served a search warrant on a residence located at 619 S. Ninth Street at 10:30 a.m.
The search warrant was based on information that a vehicle previously reported as stolen was seen in the back yard area of the residence by the owner. Sunnyside police officers had attempted to contact the resident at the address after the information was received but were unsuccessful.
In serving the search warrant officers took 40-year-old Rogeliio Martinez, a resident of the house, into custody. Located inside the residence, say local police, was just over three pounds of marijuana, six grams of methamphetamine, packaging materials and scales.
Outside of the residence the stolen vehicle was located with parts stripped off of it.
The residence is within 1,000 feet of Washington Elementary School, which will add additional penalties to the charges. City of Sunnyside Building Department officials responded to the scene as well and condemned the house.
According to police, the house had no running water, no direct hook up for electricity and was not in "livable" conditions per city code.
A second man, 35-year-old Orlando X. Tijerina, was also arrested.
Police are requesting charges of possession of methamphetamine, possession with intent to deliver marijuana and possession of a stolen motor vehicle for Martinez.
Tijerina is expected to be charged with misdemeanor possession of marijuana.