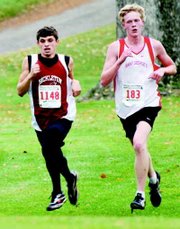 PASCO - Bickleton's Junior Hernandez and Danielle Raschko competed at the 1B/2B State cross-country meet this past weekend, with Hernandez finishing in 15th place and Raschko finishing in 28th place.
Hernandez finished the 5,000-meter course in 17:46, running with a pack of 127 fellow runners.
"Junior ran his best ever 5K time and had a clear goal to go out fast and stay in the top 12," said Bickleton Coach Darrell Lang. "He was in 10th (place) after the first mile and a half, but dropped to 12th just before the second mile."
Lang said he held on to 12th place but was later passed by two other runners to finish 15th.
Lang said Hernandez ran more than one minute faster and fourteen places higher than his first State meet. "With one more year left, his quest to stand on the podium looks very promising for 2009."
Ultimately, Jeff Pope of Valley Christian won the boys' varsity race, clocking in at 16:12.
Of Raschko, Lang said, "Danielle would be the first to admit that she would have had a hard time repeating last week's gutsy run to make it to State, but she did run a time that last year would have put her seconds from 12th place."
Raschko competed against 70 runners at State, and Glenwood's Neola Putnam crossed the finish line first, clocking it at 19:18.