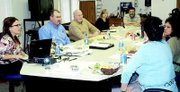 Area business owners this past Friday got a crash course in learning how to sell their services to the government, thanks to Yakima County Economic Development Association's Tami Everetts and Luz Bazan Gutierrez of Rural Community Development Resources.
Gutierrez began the seminar with two powerful words to remember when dealing with the government: "Be patient."
The two women explained how the procurement process works: the government agency announces a solicitation, potential contractors hear about it and obtain a solicitation package, submit a bid or proposal, then the government reviews and evaluates bids and awards them.
"It's important you know the procurement officer in each agency," said Gutierrez. "That's a very important step. It's about relationships, basically."
According to Gutierrez, federal government procurement goals are to award 23 percent of prime contracts to small business, 5 percent of prime and subcontracts are for socially disadvantaged businesses, 5 percent of prime and subcontracts are for women owned businesses, 3 percent of contracts are for HUB-zone and 3 percent are for service disabled veteran-owned small businesses.
For a federal certification for HUB-zone, a business and at least 35 percent of its employees must be in the zone.
For small disadvantaged business certification, it must be at least 51 percent owned by a socially disadvantaged group.
Disadvantaged business enterprise certification can be obtained if a business is 51 percent owned by a woman or minority.
There are what are called set-aside opportunities, which is money set aside by government entities to be awarded to the aforementioned categories.
The government purchases a myriad of services from janitorial to yoga.
To find out what services the government has purchased in the past, Everetts recommends the use of www.fedbizopps.gov. And, she said, one can obtain information from any governmental agency under the Freedom of Information Act.
What would not be listed on the website is services purchased with a government credit card.
Everetts said, "Look for opportunities that you are interested in and see what company was awarded the last contract and the terms."
She said it's important to know who the local competition is. This can be found at www.ccr.gov.
Important questions to ask oneself include whether or not a government agency buys from companies like yours, and if going after government is the best use of your company's time and money.
In order to prepare to go after and succeed in government contracting, there are a few essentials.
First, a person must have been in the business for over two years or have projections made for two years.
Secondly, one must know the market.
Thirdly, and perhaps most importantly, one must be able to show a strong cash flow, available line of credit and or a loan in place to cover at least three months before the first government paycheck arrives.
"If you show you're going to be dependent on that contract, you don't have a strong financial statement," Gutierrez said. "It's important to have financial statements and your finances in order."
When it's time to target an agency, it's important to know which agency, how they buy your product or services, who they currently buy from and what they are looking for.
When it's time to get started, a person must have an employer identification number, business bank account, internet access and email, said Gutierrez.
One of the first things to do is get what is called a DUNS number, which can be done for free by calling 866-705-5711. Then register at www.ccr.gov, or "central contractor registration."
CCR is a free resource that allows a business owner to market products and services to the government and other businesses. It is an online searchable database of small businesses. Through CCR, the business owner is automatically assigned a commercial and government entity code, which is an identifying number for federal government contracting.
CCR is only for federal government contracting. Local agencies will likely have their own registration.
Once this has been done, it's time to seek bidding opportunities.