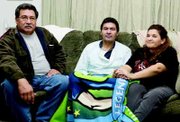 Diagnosed with a disease affecting the brain earlier this summer, Jesse Garcia of Sunnyside saw his life turned upside down.
Since that fateful day in early July, Garcia has not been able to work and his family has since seen their bills pile up.
To help with the Garcia's costs, the Granger Lions Club will hold a fundraiser for Jesse and his wife Bobbi, Sunday, Nov. 16, from 3 to 7 p.m., at the Lions Club in Granger.
Garcia, who owns Professional Painting in Sunnyside, said he had just finished a shift one evening in July when he started to feel tired. After taking a quick power nap, he awoke to find the left side of his body paralyzed.
After first being diagnosed as having a heart attack, it was soon discovered he had a mild stroke, brought on by a condition known as arteriovenous malformation, or AVM.
This disease is attacking Garcia's veins and arteries in his brain, causing them to swell. In order to fix this life threatening problem, Garcia will have to face at least six surgeries on his brain to live. Garcia has already received two of them.
His medical costs are covered by insurance but since he hasn't been working since July, no money has come into the household.
This caught the attention of Valdemar Valenzuela, president of the Granger Lions Club and a friend of the Garcias.
"We've known Jesse and Bobbi for quite a few years," Valenzuela said. "We wanted to help them out."
He said all proceeds from the benefit will go to help the Garcias.
Planned is a taco dinner. Cost of a plate will be $8 for adults and $5 for children. A silent auction will also be held at the fundraiser.
"I used to always be on the go," Garcia said. "I was either working or helping other people. Now, I'm feeling weak and tired. It's stressful because I can't do anything."
His wife Bobbi added, "Everything changes, your life just stops."
But with the help of his friends and family, and their prayers, Garcia said it is the best gift of all. It's brought everyone closer.
"It's like we're one big family now," he added.
Valenzuela said he is hoping to see a lot of Garcia's friends at the event and invites players from the Lower Valley Men's Slowpitch Association, which Garcia is vice president of, to the fundraiser.