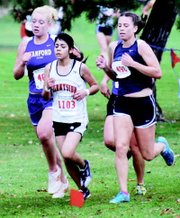 PASCO - Sunnyside High School sophomore Jocelyn Yanez's first ever appearance at the 3A State cross-country meet was a success by anyone's standards.
The SHS underclassman, this past Saturday, notched a 45th place finish from a field that totaled 140 of Washington state's finest 3A female runners. Yanez breezed across the neatly manicured, grassy 5,000-meter track at Pasco's Sun Willows Golf Course in a time of 20 minutes-flat.
"Much faster than her times in other 5,000-meter races this season," said Sunnyside Coach Robin Bryson.
The game plan for Yanez was simple on Saturday...start in the middle of the pack and try to pass runners as the race progressed.
"She worked her way up through the pack well," said Bryson. "Jocelyn did an excellent job, especially considering it was her first time at State."
Yanez clocked in only a minute and 35 seconds back of the first place finisher, Andrea Nelson of Spokane's Shadle Park High School. Nelson, the winner of the 3A Regional race in which Yanez competed two weekends ago, recorded a scorching pace of 18:25 at State. That was 10 seconds quicker than the time posted by the runner-up this past Saturday, Seattle Prep's Carey Parker.
Team-wise in the 3A girls State competition, Mercer Island, led by the third place individual finish of Lindsay Benster, came away with top honors. Finishing second through fifth in the team scoring, respectively, were Seattle Prep, Mt. Spokane, North Kitsap and Columbia River.
The Hanford Falcons ended up tied for sixth in the girls team scoring with Glacier Peak. Hanford was led by Erin Hegarty, who ran to a sixth place individual finish with her 18:56 State meet clocking. For Hegarty, it was her second straight top-10 finish at State. Hanford's No. 2 finisher at State last Saturday was Haley Tank, who placed 37th overall in a time of 19:52.
Interestingly, Yanez beat both Hegarty and Tank to the finish line two Saturdays ago at the 3A Regional meet in Richland.
The only other girl from the Big Nine League competing at last Saturday's 3A State meet was West Valley junior Audrey Urlacher. She cruised to a 19:36 clocking, good for 23rd place honors.
This past Saturday's 3A boys cross-country champion proved to be Michael Miller of Mt. Rainier. He clocked a winning time of 15:18 on the 5,000-meter course, edging runner-up Andrew Kimpel of Spokane's North Central High School by seven seconds.
Kimpel was followed to the finish line by North Central teammates Jeff Howard, Ben Johnston and Leon Dean, the third through fifth place individual finishers. By claiming four of the top five spots, North Central easily won the boys team title, amassing a meet-low 24 points. Seattle Prep's boys team was a distant second with 74 points.
None of the boys from the Big Nine League, of which Sunnyside, Hanford and West Valley are members, qualified to compete at this year's 3A State meet.