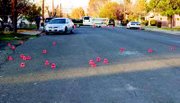 What appears to have started as a rock throwing incident left a 17-year-old Sunnyside teenager wounded and an 18-year-old Sunnyside teen dead.
At approximately 3:30 p.m. yesterday, Monday, gunfire broke out in the 400 block of South 13th Street.
According to a press release from the Sunnyside Police Department, a vehicle pulled up to the stop sign on South 13th Street, north of Edison Avenue.
Another vehicle was behind that car and then a third vehicle, driven by 18-year-old Eric Vargas, pulled up behind the second vehicle.
Police say occupants of Vargas' vehicle then exited and began throwing rocks and bricks at the vehicle stopped at the stop sign. Then, according to an eye witness, an occupant from that vehicle jumped out and began shooting at Vargas' vehicle.
The witness, who asked not to be identified, said the shooter fired about 12 times, sending the rock throwers, and the witness, scrambling for cover.
Vargas and his 17-year-old passenger, Antonio Carrasco, were hit several times with bullets, but Vargas managed to drive away. He ended up at Sunnyside Community Hospital, where he crashed through a hospital sign at the emergency room and then came to rest on the sidewalk.
Witnesses at the hospital said Carrasco ran into the hospital but Vargas had to be helped out of the vehicle by hospital staff.
Vargas died later that evening, at approximately 7 p.m. Carrasco was transported to Yakima Regional Hospital. His condition is unknown.
The vehicle in the middle at the South 13th Street crime scene was not involved.
Witnesses reported seeing a male with a gun flee the scene after the shooting. Sunnyside police are now actively looking for a 17-year-old male, who they deem is a person of interest.
Police say evidence was recovered at the crime scene, in the victim and in the victim's vehicle. They do not yet know if this incident is gang related.
Sunnyside School Superintendent Dr. Rick Cole confirmed to the Daily Sun News that both victims were students in the district. He said counseling will be provided on Wednesday when students come back from today's holiday.
This case is currently under investigation by Sunnyside police and anyone with information is asked to call the Sunnyside Police Department at 836-6200.