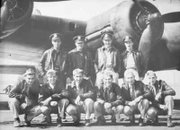 It was Christmas 1943, a noel Les Amundson would never forget, even if he wanted to.
In a span of two years, Amundson went from being a spunky Sunnyside kid to a bomber pilot over WWII Europe for the U.S. Army Air Corps.
On his third mission he was shot down over Bremen, Germany. "We had just dropped our bombs over the target," he recalled. The hunter became the hunted as Amundson's B-17 bomber took a hit both from the air - a Luftwaffe plane popped the bomber with machine gun fire - and from anti-aircraft guns on the ground.
It was the big anti-aircraft artillery that crippled Amundson's bomber, knocking out two of the plane's four engines.
Amundson somehow managed to coax the bomber into Friesland, Holland with a belly landing. Though clear of enemy fire, he was nonetheless in enemy country. With Holland occupied by Nazi Germany, Amundson and the other nine men aboard his bomber were clothed, fed and housed by the Dutch underground resistance.
Christmas Eve capture
It was Christmas Eve 1943. After a month on the run with the resistance, the German Gestapo captured Amundson in Amsterdam as he attempted to catch a train to friendlier Belgium with help from the underground.
To this day he believes a mole had infiltrated the Dutch resistance and turned them in.
Amundson figures he was kept up until about 2 a.m. Christmas morning by the German police Gestapo, alternatively pistol whipped and grilled for information. "That went on for too long," he says.
Bloodied, but still giving out nothing other than name, rank and serial number, Amundson was thrown into solitary confinement for a couple of days. "We were trained that this might happen," he says of Army Air Corps training. "I counted all the nail heads in the room," he added of finding ways to occupy his mind.
One night, he and the other three officers on the bomber - Amundson was a second lieutenant by this time - were jerked out of confinement and placed in front of a firing squad with orders to kill them.
The orders were never followed.
Looking back, he says it was a German bluff, an attempt to scare up information.
"I was convinced they were going to shoot, but I wasn't thinking real clear at the time," he smiles. "They gave the orders in English. The orders were for us to hear, not for the Dutch to follow."
From Gestapo to
prisoner of war
After three or four days in Gestapo custody, Amundson was finally taken to the German air force, the Luftwaffe.
"When the Luftwaffe guard opened the door I could have kissed him," Amundson said. "After being in the Gestapo's hands I thought I'd be in better hands with the military."
He was, but barely.
Amundson went on to spend the next 18 months in a Luftwaffe prisoner of war camp near the Baltic Sea. He was the first U.S. flying officer in the camp.
"There were 600 prisoners when I got there, all RAF (British air force)," Amundson said. "When I left there were 10,000 American flying officers."
The brutal interrogations ceased, but conditions were still harsh for prisoners. The daily food ration was a small piece of black bread - made in part with ground wood - and a cup of boiled barley "fortified with worms," he said. "Those worms had better look out for themselves because that was your protein for the day."
As for the bread, Amundson added, "You chewed it with your front teeth. That way you could make it last awhile. Otherwise, once it got past your front teeth it was gone."
Amundson reckons that by the time he was released he weighed just 120 lbs.
Punishment was swift and deadly for any who dared break even the simplest of rules. Once during an Allied air raid over the camp, Amundson recalled that three or four prisoners disobeyed orders and stood in the door way of their barracks to watch and were shot on sight.
"There's a lot of discipline at the end of a rifle," he said.
'Rocket ships'
Prisoners in Amundson's barracks were able to get an idea when the "discipline" might end.
"We had some smart guys, some engineers," he said. "They would give American cigarettes to the German guards in exchange for radio parts."
The allies in the prison took it from there in rigging up a makeshift radio to follow the war's progress.
During those last days of the war, the prisoners in Amundson's camp saw something new overhead.
"We called them rocket ships," Amundson said. "We'd look up at them and wonder where the propeller was."
The "rocket ships" were actually Germany's first jet fighters. They could go faster, farther and were more deadly. The Allies had yet to develop one.
Amundson said if the war had gone on another year the Germans may have been able to prevail because of the technological advances.
The war ended before German technology could make up for lack of manpower. But even then, Amundson and the other military prisoners would not be released by the Soviet soldiers who arrived at the camp.
Held hostage by the Soviets
"They were holding us hostage," Amundson says. "The Soviets had a general they wanted Eisenhower to release."
The initial hesitance on the part of the U.S. to release the Soviet prisoners of war back to Stalin, Amundson explained, was because of the well-known Soviet policy of terrorizing the POWS they recovered and shipping them to Siberia. "Stalin said no one was to surrender," Amundson said. "He was more evil than Hitler ever thought of being, especially the way he treated his own people."
The exchange was finally made and Amundson was freed along with the others, but not before they obeyed Soviet orders to clear bombs from the runway so that U.S. planes could land and retrieve the prisoners. The bombs were left on the runway by Germans in a failed attempt to blow it up before they retreated. "They wouldn't let us walk out," he said. "They made us fly out."
After a stay in a medical facility called Camp Lucky Strike, Amundson and the other freed prisoners were loaded on an old transport ship for home.
The two weeks it took the boat to get from Europe to the U.S. was in contrast to the 11 and a half hours Amundson said it took him to fly the bomber to Europe at the start of his time in the war.
Even now, he remembers entering New York harbor on the return trip.
"It was an emotional moment," he said quietly.
Love at the post office
After a well-deserved hero's welcome from family and friends upon his return home back to Sunnyside, Amundson went to work for the hardware store his family had operated since 1902.
Not long after his return he took a trip to the post office and fell in love. The postal clerk happened to be Helen Rogers.
Was it love at first sight?
"It didn't take too long," he said with a big smile.
He and Helen have been married 62 years; have five children, nine grandchildren and 15 great-grandchildren. They live today in the same Sunnyside house they purchased together back in 1950.
He went on to run the store with his brother until it was sold in 1984. Today the hardware store site is the location of Sunnyside's centennial gazebo.
Next month he will be featured in Sunnyside's Lighted Farm Implement Parade as the recipient of the city's Living Pioneer honor for 2008.
After the war he went on to serve 27 years in the Air Force reserves, retiring with the rank of lieutenant colonel.
The U.S. has offered him a Purple Heart medal for his service and years as a POW.
In his relaxed, modest style he's yet to claim that medal.
"I don't know what I'd do with a Purple Heart," he said.
Then again, Amundson is all heart.
He has to be to have survived the Gestapo, the Luftwaffe and the Soviets.
Despite the violence he endured and witnessed over a period of 18 months, beginning Christmas Eve 1943, Amundson said he never lost hope that he would return to Sunnyside.
"I never had that negative thought (that he wouldn't be freed)," he said. "You can't think like that."