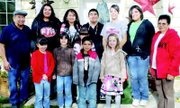 MABTON - Finding she was missing the bustle and noise once provided by her own children, Mabton's Else Herrera and her husband, Serapio, decided to open their home to other people's youngsters.
That was nearly 12 years ago. They opened an in-home daycare, welcoming children with open arms and essentially expanding their own family, becoming "Grandma" and "Grandpa" to all who entered.
Yesterday, a group of those youngsters returned for a visit with the Herreras.
The Herreras don't run a daycare out of their home any longer, but the door is always open to those whom they have adopted into the family.
"We missed 'Grandma' and 'Grandpa'," said Tawnee Bynum, who was cared for by the Herreras as a young child.
The teen said she hadn't visited them in a while. She moved to Prosser when she was in the fourth grade and has fond memories of her time in their home.
"They are like a pair of guardian angels to me," said Bynum, stating she knows she can depend on the Herreras. She said they have always been people whom she could trust and rely upon.
Her sister Teagan said, "I was little when I came here and they have always been nice to me, doing things to make me feel special."
She went on to say she has always felt loved by the Herreras and enjoys the love Else puts into the food she makes for the children.
Both girls listed favorite foods, such as tamales, enchiladas, cake, empanadas and tacos among the many foods Else made from scratch.
Josh Gutierrez, 13, said he remembers being at "Grandma's House" and always knowing the food cooked for him would be very good.
Lori Cerrillo, 14, agreed. She said Else's homemade meals made her feel special.
"Most of the time the children visit us by themselves, but this is the first time they have been able to visit as a group," said Else, who fixed a feast of the youngsters' favorite foods for the occasion.
The modest home of the Herreras brings back memories of fun and comfort for each of the children. Many of them said they remember the living room once served as a play room that was decorated with bright colors and contained some of their favorite toys.
Cerrillo said the toys were fun and some created challenges, but the other children and the bonds created during her years at "Grandma's House" were what made it special.
"The Herreras became family," she stated.
Belle Tellez said, "It was always a welcoming home at 'Grandma's House'." She went on to say she felt comfortable with the Herreras and her parents felt a sense of security leaving her in their care.
Adis Vizcano began staying with the Herreras at the age of five. The young teen said she remembers swimming in the pool and going to the movies on birthdays.
"We always felt special and those memories are some of the best memories I have," she stated.
The children said they also remember holidays because the Herreras ensured the home was decorated with special mementos, such as a snow-covered town in the bay window.
Else said the experience of opening her home to so many children was a blessing she had never really counted on. She said she hadn't anticipated opening a daycare, but the children added joy and laughter to her home.
"I feel I have shared in some of their special moments," she said.
Else said the idea of a reunion was Serapio's. "He was ill recently and said he wanted to see as many of the children as would come," she recalled.
Beaming with all those surrounding him, Serapio said, "I missed my grandchildren. They are good kids and they are part of our family."