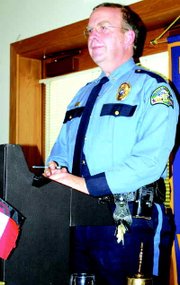 There are many issues the Sunnyside Police Department and residents of the Lower Yakima Valley are worried about.
Sunnyside Police Chief Ed Radder explained the issues at this past Monday's Sunnyside Noon Rotary Club meeting.
He said gang activity is on the rise within local communities, and it is not isolated to Sunnyside alone.
Because Radder is often asked about the issue, he said community members can be proactive in not becoming victims of such activity.
He first noted car thefts by gang members can be prevented with a simple rule of thumb. "Do not leave your cars running at the curb," he emphasized, stating he has personally observed situations where a vehicle could have been stolen because the owner left it running without supervision.
"It doesn't take a genius to realize cars are easy targets if they are already running," Radder stated.
He said he has known incidents in which gang members travel together in search of running vehicles. The modus operandi is for a number of thieves to travel via one vehicle, traversing streets within residential areas, seeking a vehicle that is unsupervised and running.
After finding such a vehicle, Radder said it doesn't take long for the thief to steal the vehicle. He and his department have tracked car thieves to Los Angeles. While there, the thieves take part in seminars run by other gang members. Those seminars are intended to instruct the thieves regarding methods used to steal Hondas.
"Hondas are currently the most popular vehicle to steal...they are easily interchangeable and they are easy to part-out," he told the Rotarians, adding there aren't many ignition key variations between the vehicles manufactured by Honda.
Another issue Sunnyside police have been battling is graffiti. Radder said the department has received grant funding for graffiti removal.
He said citizens can become involved in the effort to remove graffiti by supervising trustees. He encouraged the Rotarians to become crew supervisors and said anyone willing to do so can contact the police department.
Citizens can also become actively involved by joining the Yakima County Community Accountability Board. This group meets twice a month to address juveniles and the crimes committed by juveniles.
"They meet at the Sunnyside Presbyterian Church and decide the best course of action for a juvenile and his or her offense," said Radder.
Other ways in which the police have been handling gang activity is through working with code enforcement. Radder said it is effective for his department in that property owners are being held accountable. A property that has been used by gangs, such as one of two properties recently in the news (South Ninth Street and East Grant Avenue), can face demolition.
He said gangs are an issue facing the community, however he feels recognizing and acknowledging good behavior is important in stemming the issue. "There are 100 times more youth who are well-behaved and serving as positive role models than there are youths participating in criminal and/or gang behavior," said Radder.
He said recognizing those youngsters is a step toward discouraging poor behaviors.