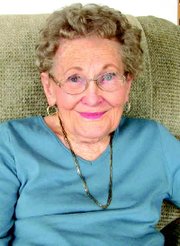 Sunnyside's Nellie Harris celebrated her 95th birthday yesterday, surrounded by family and friends.
Harris was born in Rigby, Idaho in 1913 and can still remember traveling by horse and buggy. According to her daughter, Barbara Albrecht, that was the mode of transportation in her mother's day.
It wasn't until Harris was a teenager that her family got their first car.
Harris was a young student in elementary school when she witnessed a historic political event, women receiving the right to vote. She witnessed another historic event last week when the nation elected the first African-American to office.
She was a mother to high school students when television was invented and already had half a dozen grandchildren when the integrated computer chip came about in 1978.
Harris moved to Sunnyside with her husband, Glate, in 1947 to be closer to his family. She was sitting in church the day Mt. St. Helen's erupted in 1980.
She still lives comfortably in Sunnyside where she can see her daughter and some of her grandchildren.
All total, Harris has three daughters and one son, 17 grandchildren, 49 great-grandchildren and three great-great-grandchildren.
Harris spent her birthday having dinner with family and friends, opening presents and receiving lots of phone calls.