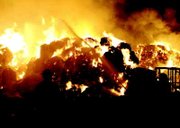 Elements of Yakima County Fire District No. 5 from Outlook, Sunnyside and Grandview raced to a fire in the 1700 block of Murray Road Tuesday night at about 11:45 p.m.
Yakima County Fire District No. 5 Captain Bo Thomas said 10 firefighters responded to the blaze, which engulfed 400 tons of alfalfa at a dairy.
"When we got on scene the stack was 100 percent involved," he said. "The property owner didn't want us to put any water on it. He wanted it to just burn out."
Because of this the firefighters switched to exposure protection for the existing haystacks and sileage storage.
Firefighters turned the fire back over to the owner at 5:45 a.m.
Damage was estimated to be approximately $90,000, plus some damage to the dairy owner's front-end loader.
Thomas said the cause of the fire is undetermined and the investigation has been turned over to the fire marshal's office.
He did say that 90 percent of the time these fires are the result of spontaneous combustion.