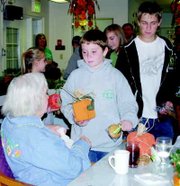 The unexpected gift was bringing joy to themselves as the Lower Valley Livestock 4-H Club visited residents of Sun Terrace this past Tuesday night.
The youngsters were at the facility to bring decorative pumpkins and cookies to the elders.
"We needed a community project," said Geordan Skyles, stating the Club decided to make the treats and gifts during a meeting in October.
The group, along with the help of their parents, decided to decorate toilet paper rolls to look like pumpkins.
The 4-H members gathered this past Monday, each bringing a 24-pack of toilet tissue. "A lot was left over," said 4-Her Miranda Ebbelaar.
She said Patsy Wiersma, Georgianne Skyles and Sheryl Duim, all parents of the 4-H youngsters, each baked cookies for the project.
"It took us less than an hour to decorate the toilet paper," said Ebbelaar, stating the 100 squares of fabric needed was provided by Sheryl Van Belle.
The 4-H members then gathered to distribute the cookies and decorative gifts to the residents of Sun Terrace the following night.
Sun Terrace Nurse Jane Robertson escorted some of the youngsters through the halls of the facility, knocking on doors and announcing there was someone with a gift at the door.
Once the gifts were distributed the youngsters shared their thoughts about the experience.
"I feel I did something good," said Geordan Skyles.
Her sister, Lexi said, "I liked seeing the smiles."
"One lady tried to give us money," said Blake Van Belle.
Ebbelaar noted there were residents at the facility who appeared as though they don't often receive visitors. "They enjoyed our visit and some gave us hugs," she smiled.
One 4-H mother spoke with a resident who began crying and shared her joy at the visit from the youngsters.
Each of the 4-H members said they felt they learned from the experience and have hopes of visiting again.
"The people here are so nice and it makes me feel good to make them happy," shared Lexi Skyles.