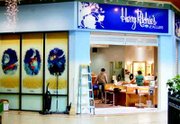 Work on a Harry Ritchie Jewelers' store accounted for almost half of the $373,000 in new building starts approved in Sunnyside during the month of October.
The improvements made for the new store, located at 2010 E. Yakima Valley Highway, are valued at $156,000 and generated $2,161.63 in permit fees for the city of Sunnyside.
Also in October, Sunnyside building officials gave the thumbs up for a $50,000 project to re-roof and re-side a pole building owned by the Port of Sunnyside at 3251 Sunnyside-Mabton Road. That project generated just over $650 in fees for the Sunnyside city coffers.
Building officials also gave the okay last month for seven re-roofing projects with a combined valuation of $26,100. Three of the re-roofs were for buildings at 1319 S. Sixth Street, with a combined valuation of $14,000.
Of the 37 new projects permitted in October, four were for new signs and five were for new windows.
For the month of October, the city of Sunnyside received $7,208.63 in permit fees for new construction.
During October, city building officials issued a combined total of 53 permits, a significant drop from the 193 permits issued during October 2007.
The biggest reason for the drop was in code enforcement, which earlier this fall had personnel cuts. There were 116 permits issued related to code enforcement during October 2007, compared to just one last month.
Of the permits issued last month, 37 were for building and nine were mechanical.