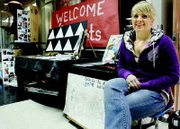 Sunnyside High School senior Megan Tyler describes herself as a "kind of everything artist."
It's this kind of "everything art" that Tyler is presenting for her senior class project.
The "everything" means just that. She has worked into her display graphic design art, web design art, drawing and paintings, and her photography.
It's art that really drives Tyler and she hopes to continue her studies in the subject when she takes off for college next year.
Why did she pick her artwork to display for her senior project?
"I love art," she said. "If anything, I think you should be doing something you love."
Tyler has been lovin' it since she was a freshman in school and took her first art class. Since then she's gone through the school's art courses and is now focused on photography.
She's really into her drawings and paintings but said she's about evenly split on whether she likes that or photography better. But being a young high school senior she can be known to change her mind.
"I like web design, too," she claimed.
She plans on designing a website that will feature an online gallery of her art.
She also is involved with graphic art, having designed a t-shirt for this year's powder-puff football team. She is working on designing a shirt for her basketball team, as well.
At the school's recent teacher-parent meetings Tyler displayed her artwork to the parents and solicited comments.
"I got some positive responses," she said. "They told me they really liked the photos. They could see that I really enjoyed doing it."
And that's what really sums Tyler up. She enjoys what she does. That's an attitude she applies to everything she tackles.
Whether it's playing on the school's Regional-playoff volleyball team, the basketball team, her track team, studying and doing homework, and working in school government, she enjoys what she does.
She says she's able to keep it all together because she's a perfectionist.
"I study all the time, as much as I can," Tyler claimed. "I want everything to be perfect."
That's something that Kelly Story, ASB secretary at Sunnyside High School, can testify to.
Since Tyler is the school's ASB treasurer, she spends a lot of time with Story.
"She is very dedicated, very thorough," Story said. "She's very organized."
Story recalled a project she gave Tyler to do at the beginning of the year dealing with the fall sports programs. Story said she did a fantastic job, doing almost all of the work herself.
When there isn't anything to do doing her one hour of time in the ASB office, Story said Tyler is studying or doing homework.
"I enjoy being around Megan," Story added. "She's very friendly, very outgoing. She gets real excited when she gets talking about her art. You can tell she loves it, that it's her passion."
Being part of student government, Tyler attends Rotary meetings in Sunnyside, something she said she likes to do. She gives a speech to the Rotarians letting them know what is going on at the school.
"I like being an ASB officer," she said. "It gives me a chance to get involved with school."
But it's her art that really matters most to Tyler and she thanks God for giving her the talent to do it.
One of the reasons she picked her art for her senior project was because she wanted to see how it would affect the people who saw it. Each one of her pieces is different and holds a different meaning to her.
"I wanted to see what they saw in it," she said. "I wanted to see if they got the message."
By hearing their reactions, it's probably safe to say they did.