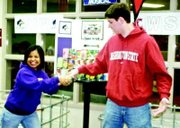 Who's it gonna be-the Huskies or the Cougs?
With the Apple Cup just around the corner, many might be wondering that very thing. But at Sunnyside High School, it's all about food.
Staff and students are currently squaring off in the halls of the cafeteria with two bins set up to deposit non-perishable food items from now until the Apple Cup.
"Apple Cup takes place during a time of the year when our local food banks often see an increase in need, so some of the schools are using the Husky-Cougar rivalry to encourage students and staff to donate food," explained the school district's community relations coordinator, Curtis Campbell.
In between the two bins is a Husky vs. Cougs display board. High school administrators are keeping count of the food and every time seven cans are collected, a sticker is applied to the "team" that hit the mark.
"Whichever team has the most at the end of the food drive gets bragging rights for the next year," Campbell said.
Participating schools include Harrison and Sierra Vista Middle Schools and Chief Kamiakin Elementary School.