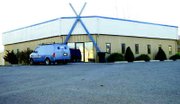 GRANDVIEW - What once housed White Shield, an environmental engineering firm, will now be the home of Grandview's newest rental hall and community center, Gemstones Leisure Hall.
Lower Valley residents will be able to rent the hall for weddings, anniversaries, reunions, quinceaneras, banquets and other social gatherings.
In the summer months, an outdoor gazebo will be available, providing an inviting atmosphere for events.
Event planner Nora Peal said the hall is also being renovated to house community activities and events, such as ballet classes, music lessons and other activities that will provide youth a venue for active lifestyles.
She said the owner of the facility has hopes of training instructors or attracting persons already qualified to teach and supervise the activities at the hall.
"We want to provide an atmosphere for healthy lifestyles," said Peal.
The building, located at 801 Grandridge Road, is currently under renovation. Peal said the hall is anticipated to open January 2009, with a grand opening to follow.
Persons interested in renting the hall or becoming an instructor can call her at 882-3450.