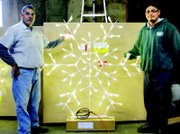 The city of Sunnyside will become a wonderland of snowflakes this holiday season thanks to the purchase of new decorations.
Sunnyside Chamber of Commerce Executive Director Pam Turner said the old decorations were no longer reliable in that many of them either didn't work anymore or only worked with limited illumination.
"Last year a person could drive down the street and see half a stocking lit and across the street half a candy cane was lit," she stated.
As a result of the condition of the lights purchased 20 or more years ago, Turner said she began working on a fundraising project for new lights earlier this year.
She spoke to City Manager Eric Swansen and told him of her efforts. "Eric suggested the lodging tax funds could be utilized for the purpose of purchasing new decorations," Turner stated.
Because the decorations help the city in creating a festive and attractive atmosphere for tourists, thus attracting people to the city and its events, new holiday decorations could be purchased with the lodging taxes.
Turner said the decorations will be especially suited for the annual Lighted Farm Implement Parade. "The general consensus was that Sunnyside needs to appeal to those visiting to the city," said Turner, stating more than 25,000 people trek to the community each year for the parade, which is the oldest of its kind.
"We want to expand on the parade...the idea is to generate interest in Sunnyside as a destination, much like Leavenworth...we want people to come here to see the lights," she commented.
The snowflake feature of the decorations was agreed upon because of the appeal to people of all backgrounds. Turner said she spoke with a number of community members and the winter motif is both attractive and suitable for the demographics of the community.
She researched the decoration ideas available, taking into account the size of the lights. The new decorations will not impede traffic at Centennial Square and they will be featured throughout a larger area of the city than in years past.
Turner said it was important to her and city officials that the lights highlight Sunnyside and not just a portion or certain area of the city. Therefore, the Sunnyside Fire Department and Pacific Power worked together to expand the area to feature the decorations.
The cost of the newly purchased decorations was nearly $55,000 in tourism dollars. That figure covered 95 lighted snowflakes, including four to be placed at the heart of the city, Centennial Square.
Turner said she has hopes the new decorations will be inviting and she feels the purchase is something for the community to be proud of.
"It was a combined effort between both the chamber and the city," she said, stating the new lighting will add to the ambiance of the season.