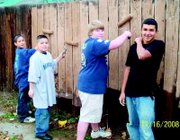 Anthony Zapata is plain sick and tired of seeing the graffiti that covers areas of Sunnyside.
"I want Sunnyside to be a good place to live, right now it's not," the eighth grade student at Sierra Vista Middle School said.
Zapata said the group of friends he started middle school with has shrunk, with some making the wrong decisions with gangs and other troubling activities.
He knows some students that have been stabbed and doesn't want to end up like them.
So Zapata has decided to do something about the graffiti that's around Sunnyside.
It was a staff member at Sierra Vista that first turned him onto the idea. He was talking about joining the Sunnyside Police Explorers when the staff member suggested painting over the graffiti in town would be a good start.
The next day he broached the subject with his parents.
"We were kind of surprised," his mother, Kari Alvord, said. "We told him where he would have to start. It makes us feel happy to know that he is choosing the right way. We know it's hard."
Zapata spoke with Sunnyside Police Chief Ed Radder and told him of his idea.
"He told me he was proud of me," Zapata said. "He said he was glad to know there are young guys out there willing to help the community."
He also began making the rounds to the local paint stores to seek help in getting supplies. Zapata soon had enough paint and rollers to begin work, something he did this past weekend.
Zapata is asking the community for help. His phone number is 831-5962 and he is asking anyone who wants to help donate supplies for his cause to give him a call. He also wants people to give him a call if they see any unsightly graffiti that they want him to paint over.
His motive is simple.
"I'm just doing this to help out the community," he added.