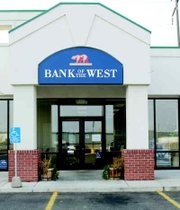 To help small business owners and mid-size companies grow, Bank of the West is promoting a suite of free financial products aimed directly at this market segment.
Known as the "3 frees of business banking", the suite offers a bundle of three free products: a business checking account package, online banking using the bank's WebDirect service and one free order of business checks.
Bank of the West is offering these free business products through Dec. 12.
WebDirect will allow businesses to track information, such as account balances and check images. As the business grows, it can add certain cash management features to the WebDirect service the business is using.
Customers may also qualify for a special money market account, loan products and customized cash services to accommodate the needs of a growing business.
This suite of business products handles cash and payments for business customers, including electronic deposit service, automated clearing house, online wire services and sophisticated reports. This suite is typically for larger business customers with more complex needs related to the management of their cash flow.
Jim Cole, vice president of corporate communications at Bank of the West, said the focus is on building relationships with small businesses.
"We pride ourselves on being relationship oriented," he said. "With the current economic situation we feel it's a good opportunity to offer this suite of products that will meet the needs of small businesses and save them money at the same time."
Cole added that the three products offered are the core of any small business banking relationship.
"We thought by packaging them together it would allow people to focus on their business and not have to worry about their banking relationship," Cole said.
Cole said Bank of the West has been in business for 130 years and has built a reputation on its relationship with businesses. He added that Bank of the West has been named one of the top four banks in the country for customer satisfaction in small business banking by JD Power and Associates.